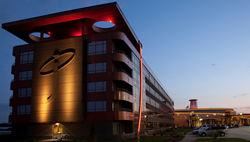 Our goal at Jumer's is to combine the fun and excitement of Las Vegas with the warmth of Midwestern hospitality, all within a two-hour drive of Chicago
Las Vegas, Nevada (PRWEB) March 17, 2014
One thing overnight visitors to Jumer's Casino and Hotel won't be gambling on is their health. Jumer's, a Las Vegas-style destination in Rock Island, Illinois, will install a block of allergy-friendly guest rooms by PURE Solutions, making the hotel more accommodating to people with asthma and allergies.
PURE Rooms are treated according to a patented 7-step process that kills and protects against 98-100% of viruses, bacteria and other airborne particles. PURE technology creates a room that is more comfortable for asthma and allergy-sufferers and also provides a more refreshing and rejuvenating experience for all hotel guests.
Senior director of marketing at Jumer's Casino and Hotel, Travis Hankins, believes PURE Rooms are an ideal complement to the hotel's inviting, resort-like atmosphere.
"Our goal at Jumer's is to combine the fun and excitement of Las Vegas with the warmth of Midwestern hospitality, all within a two-hour drive of Chicago," Hankins said. "PURE Rooms will enable us to provide all of our guests with the most comfortable and relaxing environment possible."
Jumer's Hotel and Casino will become the second casino in the US offering allergy-friendly PURE Rooms. The first, Agua Caliente Casino Resort Spa in Rancho Mirage, California has already received positive feedback from guests with asthma, allergies and those looking for the best night's sleep.
"We are extremely excited to be partnering with Jumer's Hotel and Casino," said Jeff Laster, vice president of business development at PURE Solutions. "The opportunity to bring PURE Rooms to a casino in the Chicago area is really exciting."
PURE Solutions technicians will begin the conversion at Jumer's Hotel and Casino on March 10th, making them available to guests shortly thereafter.
About Jumer's Casino and Hotel
Jumer's Casino and Hotel offers nonstop gaming action and luxurious amenities, including the best in slots, table games, world-class hotel accommodations and dining options. Located in Rock Island, Illinois, Jumer's Casino and Hotel offers all the fun and excitement of Las Vegas less than two hours from Chicago.
With over 42,000 square feet of gaming floor space, Jumer's is an annual award-recipient for best casino and accommodations. The hotel's 205 luxuriously appointed guest rooms, along with an indoor pool and fitness center, offer an inviting opportunity to relax and unwind. Jumer's Hotel and Casino also features the John Taylor Salon and Day Spa, a full-service facility providing a range of high-end treatments on-site, including massages, pedicures, manicures and hairstyling.
For more information about Jumer's Hotel and Casino, please visit their website at http://www.jumerscasinohotel.com.
About PURE Solutions
PURE Solutions utilizes state-of-the-art purification technology to create allergy-friendly environments that are 98-100%-free of viruses, bacteria and other harmful airborne particles. Each PURE Room is comprehensively treated to remove allergens and irritants from all hard surfaces, fabrics and air. To learn more about the PURE process and to book a room at one of their 300 partnering hotels nationwide, visit pureroom.com.
For more information about installing PURE Rooms at your hotel, please contact Vice President of Business Development Jeff Laster at jlaster(at)pureroom(dot)com.