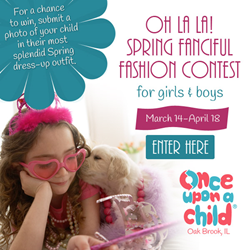 We're so pleased to see our Facebook page growing. We hope everyone in our community enters.
Oak Brook, IL (PRWEB) March 16, 2014
Once Upon a Child Oak Brook hosts the Oh La La! Fanciful Fashion Contest for boys & girls. One lucky winner will be chosen and will win four(4) tickets to see Sleeping Beauty and have brunch with the characters at Drury Lane Theatre. The winner will also get a $50 Once Upon a Child Oak Brook gift card to help dress for the occasion.
To enter, contestants must submit a photo of their child in their most splendid dress up outfit. Contestants can enter a new photo daily and must solicit votes from their friends and family on Facebook or Twitter.
The winner will be randomly drawn from the top ten(10) voted photos. So, contestants are encouraged to vote daily and spread the word.
Once Upon A Child Oak Brook is a locally run and managed children's store. Once Upon A Child buys and sells gently used kids clothing (size 0 to 20), toys, and baby gear offering customers the opportunity to recycle their children's nearly new items and get paid on the spot or trade them in for things new things from Once Upon a Child's inventory.
Once Upon a Child Oak Brook ran a month long sweepstakes in February to launch their new Facebook page. With nearly 500 entries, Michelle Blumberg of Lisle, IL was chosen as the winner.
Drury Lane Theatre in Oak Brook, IL produces high quality productions and award winning theatre productions. They are dedicated to reaching young audiences with entertaining, educational and theatrical programming. Sleeping Beauty will run from April 23, 2014 through June 7, 2014. More information is available on their website.
The contest page can be found from the Once Upon a Child Oak Brook Facebook page or you can enter directly on the contest page here.
Idea Marketing Group, located just west of Chicago, offers web design, web development, and marketing services to clients nationwide. With additional specialties in branding, graphic design and marketing services. Idea draws from experienced, in-house talent paired with unmatched customer service at award-winning levels.