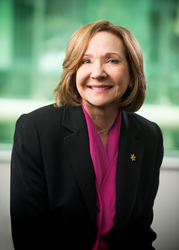 Horsham, PA (PRWEB) March 26, 2014
The Penn Mutual Life Insurance Company, a more than 167-year-old company, is pleased to announce that Alida Moose, Ed. D, has been appointed senior vice president, chief human resources officer.
In her new role, Moose will be responsible for defining and implementing human resource strategies and programs for Penn Mutual and Hornor, Townsend & Kent, Inc., (HTK) Registered Investment Advisor, Penn Mutual's wholly owned subsidiary.
"With more than 26 years of experience in the life insurance industry, Alida is known for being a catalyst for major cultural and process changes that have resulted in operational excellence," said Eileen McDonnell, chairman, president and CEO of Penn Mutual. "Her vast knowledge and expertise will help her as she provides counsel to our business areas and promotes Penn Mutual's unique culture by ensuring our values are reflected in all our associates and the work they do every day, on behalf of our producers and policyholders."
Moose has been with Penn Mutual for 15 years, most recently as vice president, Producer & Client Services. Prior to joining Penn Mutual, Moose previously worked at Lincoln Financial Group, Aetna and Colonial Penn Insurance.
Moose received her doctoral degree in human resource development from George Washington University. She earned her master of philosophy and master of science degree in organizational dynamics from the University of Pennsylvania and a bachelor's degree in psychology from Rutgers University.
About The Penn Mutual Life Insurance Company
Since 1847, Penn Mutual has been driven by our noble purpose to create a world of possibilities. At the heart of this purpose is the belief that life insurance is the most protective, responsible and rewarding action a person can take, and is central to a sound financial plan. The company is committed to helping families unlock life's possibilities through life insurance and annuity solutions. This is accomplished through a national network of financial professionals, who help clients make great things possible. Penn Mutual supports its field representatives with brokerage services through Hornor, Townsend & Kent, Inc., (HTK) Registered Investment Advisor and wholly owned subsidiary. Member FINRA/SIPC. Visit Penn Mutual on the Internet at http://www.pennmutual.com/.
©2014 The Penn Mutual Life Insurance Company, 600 Dresher Road, Horsham, PA 19044
A4CM-0306-13E2