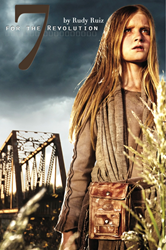 Latino immigrants are much like all American immigrants before them, hungry for opportunity and willing to become a part of the American dream and the American culture.
Monterey, CA (PRWEB) March 18, 2014
Throughout its history, the United States has always been a country shaped by immigrants, economically, socially, culturally and politically. And that trend undoubtedly continues today. According to the US Census Bureau, Hispanics represent about 17 percent of the population in America, not including the estimated 12 million undocumented Hispanic workers whose legal status is in question.
Despite the indisputable influence these populations represent, politicians and social commentators often treat Hispanics in America as a number, a statistic to make a political point. But author and social entrepreneur doesn't see it that way – after all, he's experienced the impact of Hispanic immigration firsthand.
Inspired by his upbringing by Mexican immigrant parents and his career dedicated to public policy concerning Latinos and their place in America, Ruiz brings audiences "Seven for the Revolution." This collection of humanizing stories from the past, present and future will give readers of all backgrounds a deeper and more empathetic understanding of the Latino immigrant experience in America.
"My goal with 'Seven for the Revolution' is to help people understand that Latino immigrants are much like all American immigrants before them, hungry for opportunity and willing to become a part of the American dream and the American culture," said Ruiz. "I wrote the stories in this book both as a way to express my own culture but also to contribute to America's well-being and future by encouraging readers to embrace reform not only for the good of the immigrant but ultimately for the greater good of America itself."
Through seven fictional stories from the past, present and future, Ruiz challenges readers to opens up to a world understood by few but connected to all.
For more information, visit http://www.rudyruiz.com.
Seven for the Revolution
By Rudy Ruiz
ISBN: 978-0-9844345-0-3
Softcover, retail price: $15.00
Hardcover, retail price: $29.99
About the author
The son and grandson of immigrants, Rudy Ruiz has lived the American Dream. Born and raised along the border, he did not speak English until he entered school at the age of 5. He went on to earn both Bachelor's and Master's Degrees at Harvard University. As President and Chief Creative Officer of Interlex Communications, he has built one of the nation's leading advocacy, cause-related and corporate social marketing agencies while focusing exclusively on making a positive impact in the lives of diverse audiences. His endeavors as a social entrepreneur have garnered numerous accolades, including membership in the Inc. 500 ranking of the fastest growing companies in America and myriad creative awards for branding and behavior change campaigns.
Ruiz's previous published works include ¡Adelante! (Random House Español, 2003) and Going Hungry (Anchor Vintage, 2008). Additionally, his columns have appeared regularly on CNN.com, major newspapers including the Philadelphia Inquirer and the Houston Chronicle, and RedBrownandBlue.com, a site he founded to feature multicultural perspectives on mainstream issues.
Hailed as "a cultural visionary", Ruiz has been recognized both as a voice of reason within a highly polarized political climate as well as an advocate for immigrants and immigration reform as essential to the sustainability of America's values and prosperity.
# # #