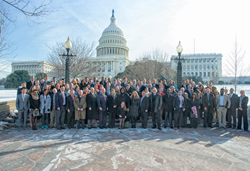 It's an honor to be part of the event and the mission of providing quality physical education in schools.
Washington, DC (PRWEB) March 21, 2014
PlayCore and Everlast Climbing were two of more than 40 corporate sponsors of the March 5 event that was organized by the Sports and Fitness Industry Association. Other attendees included celebrity athletes, as well as sporting goods and fitness manufacturers, physical educators and association leaders. The consortium met with U.S. Representatives and U.S. Senators to discuss the importance of federal funding to support quality physical education in schools and to encourage more physical activity for families by making it more affordable. Primarily, Congress was asked to approve the Carol M. White Physical Education Program (PEP) in Fiscal Year 2014. This program provides the only dedicated federal money to school districts and community-based organizations for physical education and innovative physical activity methods.
In attendance from Everlast climbing were Tim Sudeith, General Manager, and Marcus Dalton, Sales Representative. They held meetings with representatives from congressional districts including Minnesota, Wisconsin, California and Ohio. "It was incredible to be a part of the Democratic process. Our message was heard and everyone was very concerned about childhood obesity and its long-term negative effects," remarked Dalton. Sudeith noted a marked difference in this year's event compared to five years ago. "It was exciting to see an increase in concern about youth fitness. The support for physical education funding through PEP was overwhelming and across party lines."
The PEP program is critical to the health of U.S. children. As of 2013, only one state met the CDC recommended 60 minutes of physical activity per day. In addition, a school's average annual budget for physical education is a mere $764. The need for continued funding of this very successful and vitally-needed program is clear. "It's an honor to be part of the event and the mission of providing quality physical education in schools and encouraging physical activity for a healthier life," said Sudeith.
About Everlast Climbing
Everlast Climbing is committed to improving youth fitness with dynamic and innovative products that engage children and inspire physical activity. The company is headquartered in Mendota Heights, MN, and is part of EverActive Brands, a division of PlayCore of Chattanooga, TN. More information is available about Everlast Climbing at http://www.everlastclimbing.com.
About PlayCore
PlayCore helps build stronger communities around the world by advancing play through research, education and partnerships. PlayCore combines best in class planning and education programs with the most comprehensive array of recreation products available to create play solutions that match the unique needs of each community they serve. Learn more at http://www.playcore.com.