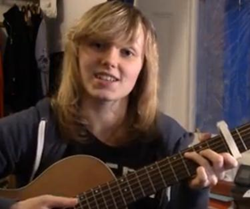 (PRWEB) March 14, 2014
Beth starts off this acoustic guitar lesson by playing a little bit of the song. Next she explains that a Capo is required on the 5th fret to be in the correct key. The chords that Beth says are used in this song are: Am, C, G, F, Dm and E. "The chord pattern for the intro is the same as the verse," says Beth. She explains the progression as follows: Am, C, G and F and that each chord will receive four beats. She demonstrates the strumming pattern as follows: down, down-up, up-down-up (1-2-&-3-4-&) and plays this sequence once for each chord. Next she demonstrates the pre-chorus as follows: the chords are; F, Am and G and the progression is F-Am-F-Am-F-G and is strummed the same as the verse. Finally Beth demonstrates the chorus in two parts. Part one: the chords Am, G, Dm, Am, G and the strumming is the same as the verse; except for Am, G and Dm, you play the pattern twice and then for Am and G, you play it once. For the second part of the chorus the chords are Am, G, Dm, F and G, and the strumming is the same as the first half of the chorus. Guitar TAB's are available for this acoustic guitar lesson at SongTabs.com.
A Capo, short for capotasto, which is Italian for "head of fret board," is a device used on the neck of a fretted instrument to shorten the playable length and raise the pitch.
Adele Laurie Blue Adkins, aka Adele, is an English singer/songwriter from Tottenham England. She was offered a recording contract from XL Records in 2006 after posting a demo on MySpace. Since then Adele has released two studio albums and made numerous television appearances. She has been awarded 8 Grammy's and is the first person to lead the Billboard 200 concurrently with three Billboard Hot 100 number ones.
About SongTabs.com
SongTabs.com is a great online resource for learning to easily play your favorite songs on the guitar. With several great instructors and a constant growing catalog of songs, everyone can learn to play there favorite songs.