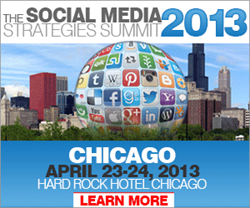 What are your consumers saying about that new product you just launched? What do they REALLY think about the packaging design change you made? Are they able to easily navigate your website? Social media can tell you all that and more in real-time
Chicago, IL (PRWEB) March 18, 2014
The Social Media Strategies Summit returns to Chicago for a third consecutive year beginning next month. This April 29-May 1st, Chicago hosts the Summit which features multiple corporate case studies providing attendees insights into how to align social media marketing efforts with their company's overall business and corporate strategies.
Rob Manker, Associate Manger, PR & Social Media with ConAgra Foods Inc. will be presenting on the Social Media Measurement & Analytics Track on May 1st. In his session, "Social Media Monitoring Tools: Finding the Right Tools for You," he will discuss key factors in selecting a monitoring tool including data archiving and exporting capabilities, analysis available and required, advantages and disadvantages of top tools and the value of tool integration.
In preparation for next month's Summit, Rob recently commented, "What are your consumers saying about that new product you just launched? What do they REALLY think about the packaging design change you made? Are they able to easily navigate your website? Social media can tell you all that and more in real-time, with the right tools. We'll talk about how to choose the tools that work best for you and your business."
At ConAgra Foods, Rob helps lead the strategic direction of social media communications for brands such as Chef Boyardee and ReadySetEat (the company's multi-brand meal solution platform). In addition to those brands, Rob has also helped lead social listening tool selection and best practices for brands such as Slim Jim, Swiss Miss and others.
Prior to arriving at ConAgra, Rob was a veteran editor and reporter for more than 20 years at the Chicago Tribune, Sun-Times Media Group, the Daily Herald and other Midwest newspapers before moving to content marketing. With a reporter's tenacity and a marketer's mission, Rob helps lead the social media team's search for social insights and learnings to help better tell the ConAgra brand stories.
"We are really excited to be working with great companies like ConAgra this year," commented Summit Producer Kara Mignanelli. "This year we've expanded the three-day event to feature 9 pre-summit workshops and over 30 learning sessions and case studies. It will be a huge opportunity for practitioners to learn what leading brands are doing within the social media space."
Attendees can learn more about the various sessions by viewing the agenda here.
To assure attendees get the full benefit of an intimate summit, we only offer a limited number of seats. Take advantage of our early bird registration deals to secure your seat. Group discounts are also available through Friday, March 28th.
View the agenda and register for SMSS Chicago on our website:
http://www.socialmediastrategiessummit.com/chicago-2014/
About ConAgra Foods
ConAgra Foods, Inc., is one of North America's largest packaged food companies with branded and private branded food found in 99 percent of America's households, as well as a strong commercial foods business serving restaurants and foodservice operations globally. Consumers can find recognized brands such as Banquet®, Chef Boyardee®, Egg Beaters®, Healthy Choice®, Hebrew National®, Hunt's®, Marie Callender's®, Orville Redenbacher's®, PAM®, Peter Pan®, Reddi-wip®, Slim Jim®, Snack Pack® and many other ConAgra Foods brands, along with food sold by ConAgra Foods under private brand labels, in grocery, convenience, mass merchandise, club and drug stores. For more information, please visit us at http://www.conagrafoods.com
About GSMI:
GSMI is a leader in the industry of executive education, creating conferences, summits, workshops and training sessions that combine rich learning environments with the opportunity to network with today's most relevant thought leaders, speakers and practitioners. GSMI's annual events have reached 80% of the Fortune 500 companies, in over 30 countries, covering topics that today's leaders find most challenging and inspiring. For more information about Global Strategic Management Institute's upcoming educational events for professionals, please visit: http://www.gsmiweb.com
Media Contact:
Tom Dibble
Tom.dibble(at)gsmiweb(dot)com
619.810.1860