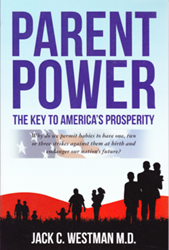 Parents have the power to prevent and to contribute to our social problems
Madison, WI (PRWEB) March 18, 2014
In an era when schools and economic disadvantage are seen as the main reasons why one-third of the children in the United States are not thriving, Dr. Jack Westman calls attention to the power parents have to both prevent and to contribute to our social problems in his book, Parent Power: The Key to America's Prosperity. Andrew Solomon's March 2014 article in The New Yorker about the Sandy Hook Elementary School massacre by Adam Lanza illustrates the role even middle class parents can play in social problems and the failure of professionals to include parents in the treatment of young persons.
Adam Lanza didn't speak until he was three, and he always understood more words than he could speak. His parents separated when he was nine. In the fifth grade, he and another boy wrote a story in which an old woman with a cane killed wantonly. A teacher noted "disturbing" violence in his writing. In the sixth grade he was diagnosed as having a sensory integration disorder that ultimately was modified to become Asperger's Syndrome when he was thirteen. Home schooling was recommended. From the eighth grade on, his mother taught him the humanities, and his father met with him twice a week to handle math and the sciences. His parents finally divorced when he was seventeen.
Peter Lanza maintained contact with Adam until September, 2010, when Adam did not want to have contact with him, and his mother described him as "despondent and crying a lot." In 2011, she said that Adam "has been doing very well and has become quite independent over the last year." But a report by the state's attorney noted that people who worked on the property could not enter the house and were warned never to ring the doorbell. From the age of nine, Adam spent all of his time with his mother who kept a loaded gun in their house.
Emily Miller, an editor at the Washington Times, wrote about the Lanza family: "We can point to a mother who should have been more aware of how sick her son had become and forced treatment."
Dr. Westman notes, "The Lanza family reveals how the same dynamics that exist in disadvantaged families occur in middle class and affluent families with disastrous outcomes for society. More obviously it reveals how health, mental health and educational professionals can easily overlook family factors that contribute to social problems when they focus on individual family members rather than the family unit as a whole. Adam Lanza's father, Peter, can see that now, but it could have been the focus of professional attention his family received."
Parent Power: The Key to America's Prosperity more obviously shows how society leaves the future of our children with parents who are unwilling or unable to raise them to separate professions and social services that try to help these struggling families. These unconnected, crisis-recoil responses to problems cannot apply what is known to effectively help families in crises. If this fragmented approach was applied to health care, only a fraction of our population would be immunized and only a fraction of the individuals who became infected would be treated. The result would be pandemics of diseases as is now seen with our educational failures, endemic crime and welfare dependency.
The causes of intergenerational poverty, crime and welfare dependency can no longer be ignored. United Nations statistician Howard Friedman has carefully documented the declining international status of the United States in his book The Measure of a Nation: How to Regain America's Competitive Edge and Boost Our Global Standing. He bases this on the following facts:

Americans have the lowest life expectancy among all competitor nations.
Americans are at least two times more likely to be murdered and four times more likely to be incarcerated than any other competitor country.
The United States shows the greatest disparity between rich and poor among all competitor nations.
While the current focus is on unemployment, the soaring national debt and terrorism, the ailments that infect society are being ignored. Especially dangerous is the decline in thriving families that threatens the prosperity and security of our nation. This decline in family well-being deprives the United States of parents who can effectively raise its greatest natural resource…children and youth.