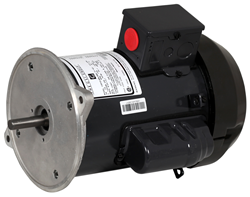 (PRWEB) March 14, 2014
Farmer Boy Ag is pleased to announce Automated Production Systems (AP), Cumberland Poultry, and Hired Hand, the leading manufacturer for livestock and poultry equipment has taken big steps in improving their, already superior, feed lines motors.
AP, Cumberland, and Hired Hand are a world-class swine and poultry production equipment manufacturer offering complete innovative solutions for feed systems, feed storage and delivery, watering systems, ventilation and controls, heaters, nesting, and more. Focused on meeting the ever changing needs of the livestock and poultry industry, they offer a complete line of reliable production equipment that's easy to install and maintain.
New Features & Benefits of the Feed Line Motor include:
50/60 Hertz Motor - 5 models total: 1/3, 1/2, 3/4, 1 and 1.5 HP. More HP compared to a single frequency motor giving you a higher service factor.
5/8 Shaft on 3/4 Motors - The robust design significantly increases shaft strength for a longer life
Improved Starter Switches - New start switches improve reliability and overall longevity of the start circuitry by having less sparking, arcing and welding. Over 50% increase in surface area on start contacts.
Bleed Resistors Added To All Motor With Capacitors - Improves reliability for motors operated under high start applications by reducing the heat buildup
Centrifugal Actuator Added To All Single Phase Motors - Industry proven flat spring design incorporates less moving components, thus producing more reliable switching and longevity of the motor
Two Year Warranty - Increased from one year to two years
Farmer Boy AG, Inc. has been at the forefront of the livestock and poultry industry, constructing facilities for these industries as well as providing a complete line of parts and supplies to keep those facilities running for years to come. Regardless of market conditions, Farmer Boy Ag strives to give customers "The Best Value in Ag Supplies!" For more information on the newly improved Feed Line Motors, contact the Farmer Boy AG Sales Department at (800) 845-3374.