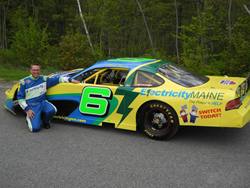 Auburn, Maine (PRWEB) March 14, 2014
Electricity Maine and Bowie Motorsports have announced they will continue their partnership in 2014. Owned and driven by Maine racing veteran Chris Bowie, the Electricity Maine Late Model #6 will run the 2014 season at Wiscasset Speedway.
Bowie says he is excited for year two of their partnership. "Every driver want to improve on the previous year, with Wiscasset as our home track and a year under our belt, we have high expectations for this season. "
Off the track the Electricity Maine #6 car will make appearances in parades, community events and available to help raise awareness for Electricity Maine's Power to Help Partners. The Power to Help program was set up by Electricity Maine to support local non-profit organization through direct donation as well as donations, technical expertise and volunteers. May Partners have already expressed interest in having the Electricity Maine #6 Late Model car at fundraising events.
Headquartered in Auburn, Maine, Electricity Maine is a Competitive Electricity Supplier licensed by the Maine Public Utilities Commission to sell electricity supply directly to homes and small businesses served by CMP and Bangor Hydro utilities. As part of the Provider Power family of companies, Electricity Maine purchases its electricity supply through the New England Power Pool (NEPOOL).
The Electricity Maine-Pro Series 6 car will begin racing on April 26, 2014. Crew and team members include Pauline Bowie (New Gloucester, ME.), Chris Bowie JR. (Lewiston, ME.), Amy Bowie (Lewiston, ME.), Hannah Bowie (New Gloucester, ME.), Joe Plante (Casco, ME.), James Barbour (Auburn, ME.), Ben Brown (Bath, ME.), Dave Juhlin (Bath ME.) and Cheri Plapis (Auburn, ME), Joe Bowe (New Gloucester, ME.) Mike Downing (Minot, ME.), Russ Pratt (Minot, ME.).