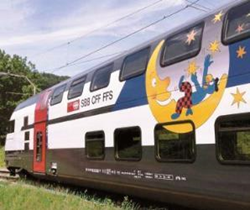 Board a train and you are automatically on a roll with your kids.
Tampa, FL (PRWEB) March 17, 2014
Summer family vacations by train can include just about anywhere. Whether it's Amtrak from Los Angeles to Chicago, ViaRail from Montreal to Halifax or a quick family adventure to the Grand Canyon, board the train and you are automatically on a roll with your kids.
"Rail travel is becoming more popular with families, especially three generations traveling together," according to Nancy Nelson-Duac, Curator of the Good Stuff for theFamilyTravelFiles.com. "Rail travel offers parents and grandparents an easy way to transition from hectic daily schedules to vacation mode. It provides an effortless way to make the most of travel time together," she explains.
The new Rail Travel folder is populated with the latest news for families about travel by train along with rail vacation packages, destination suggestions, and ways to enjoy vacation savings not just for the busy summer season but also for the off peak travel months.
Hot summer family vacations by train include travel deals, discount offers and savings on Amtrak, BritRail, Eurail, RailItalia, ScotRail, and ViaRail. No two family rail adventures need ever be the same.
Amtrak has more than a dozen ways to create a family rail adventure. Best ideas include taking the kids by train to Yosemite, riding the rails to the rim of the Grand Canyon, visiting Glacier National Park by rail or combining Amtrak tickets with a CityPASS in Chicago for a terrific urban family adventure.
Summer in Scotland is always magical and ScotRail makes it more affordable with the "Kids Ride Free" program which provides not just free travel for children younger than 15 years of age but also have a slew of discounts at the most popular summer attractions throughout the country including Edinburgh Zoo, National Wallace Monument, and Highland Wildlife Park.
Families who enjoy the flexibility of Eurail passes for connecting travel also receive extra discounts and free admittance to a variety activities including local cruises, sightseeing tours, and hotels. If London and Paris are in your summer family plans with Eurail Pass it is possible fly to London and connect to Paris on Eurostar.
ViaRail makes access to Canada remarkably easy for families to ride the rails together. One of the most delightful and educational routes is from Montreal to Halifax on the Ocean with the added value of ViaRail's summer Maritime Learning Experience offered en route.
For more summer family vacations by train view the Rail Travel folder located on the homepage at theFamilyTravelFiles.com.
About theFamilyTravelFiles.com. Founded in 1998, theFamilyTravelFiles.com is one of America's top-rated online family travel resources offering more than 1000 pages of timely family vacation ideas and trip planning information. The website specializes in displaying family vacation ideas, destination information for planning family vacations, advice about family trips, and family travel deals. To assist in narrowing searches, colorful vacation idea folders are visible throughout the website, the newest of which is Rail Travel.