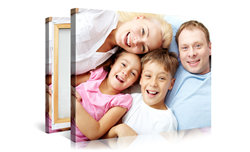 This weekend, re-decorating the home doesn't have to be a pie in the sky.
(PRWEB) March 14, 2014
Get your slice of the pie – with 20% off your photo on canvas at online photo service CanvasDiscount.com.
In celebration of Pi Day, the canvas printing service is cutting 20% off its personalized canvas prints. With the coupon code "HAPPYPIDAY", customers transform favorite photos into canvas art.
Pi Day is commemorated annually on 3/14, or 14 March, in honor of the mystifying infinite number crucial to passing Math and calculating the area of spheres. It also happens to be the birthday of Albert Einstein, father of the theory of relativity.
"Wipe the crust off old photos and turn them into stunning canvas prints for the home. This weekend, re-decorating the home doesn't have to be a pie in the sky," said Gerald LeGarde of the CanvasDiscount.com Business Development Team. "Personalized canvas prints of your favorite memory, holiday snapshot or family portrait hung up on your walls spread love in the home, filling it with warmth and cheer."
Customers turn treasured snapshots into gallery-worthy canvas art by uploading their favorite pictures onto http://CanvasDiscount.com. By personalizing them with a host of effects and frame options, customers create one-of-a-kind canvas prints that are perfect as Mother's Day gifts or outstanding pieces of home décor.
"Bring your walls to life with canvas prints - it's easy as pie," said Gerald.
To get 20% off your custom canvas prints, use the coupon "HAPPYPIDAY" at: http://CanvasDiscount.com.
About CanvasDiscount.com
CanvasDiscount.com is an online canvas printing service offering custom-made photos on canvases already stretched on the frame. It offers the lowest prices and highest quality on the web, backed by its 100% Money Back Guarantee.