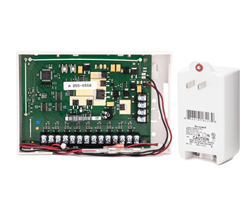 We want to make sure that wireless security is available to anyone that wants it.
Lighthouse Point, FL (PRWEB) March 17, 2014
Alarm Grid has begun selling the Honeywell 5800C2W, a new wired system to wireless system conversion kit. "This marks a real sea change in the alarm industry," said Joshua Unseth, spokesperson for the company, "it shows a shift in focus from the old wired panels to an industry dominated by wireless technologies." Years ago, the industry was reticent to accept new RF wireless sensors, since they were regarded as notoriously unreliable. Nowadays, however, wireless installations dominate the market. "It is hard to convince hardwired installers that the new wireless systems are just as good," Unseth said. "The technology was as of yet unproven just 5 or 10 years ago. But now, these systems have now shown that they can do just as good a job at protecting the lives and the property of everyone who installs them in their home. Anyone who isn't convinced yet is going to be left in the dust by these emerging technologies."
Honeywell's most popular security system is the LYNX 5100, a touchscreen system that is capable of home automation and home security. While marked down at an affordable price, compared with what a security system used to cost, perhaps the biggest story when it comes to the Honeywell LYNX is the ease of installation. While customers have traditionally relied on professional, licensed installers to put wire panels into a home, these new systems allow access to state-of-the-art home security equipment that runs using simple A/C power, which means that individual homeowners can install a unit on their own, without the help of a professional. That said, until the introduction of the 5800C2W, customers have not had a reliable way to use their already installed wired contacts, which would prompt users who would have been good candidates for a wireless security system to purchase and install one of the wired systems since changing out sensors can be extremely expensive.
"We want to make sure that wireless security is available to anyone that wants it." Unseth believes very strongly in the implications of wireless technologies to Alarm Grid's future. "Wireless systems are cheaper, at least as reliable, and much more simple to install and use than any wired system on the market." If that is in fact the case, then there is little doubt that Alarm Grid's future looks very bright.