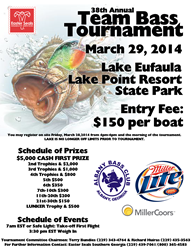 I have participated for several years in this well organized tournament that supports a worth while organization.
Albany, Ga. (PRWEB) March 16, 2014
The 38th annual Team Bass Tournament to benefit Megan's House is scheduled for Saturday March 29th and will be held at Lake Point Resort State Park on beautiful Lake Eufaula. Entry fee is $150.00 per boat. You may register on our Website, in person at 1906 Palmyra Road, Albany, on site Friday, March 28th 2014 from 4:00 PM – 6:00 PM or on the morning of the tournament. For more information go to the event Website , visit the office on Palmyra Rd or call 229-439-7061.
Schedule of Events:
7 Am EST or Safe Light: Take-off First Flight.
3:30 PM EST Weigh In.
First Prize $5,000
ABOUT MEGAN'S HOUSE
Megan's House is a respite home for children ages 0-17 who have developmental disabilities, autism, or are medically fragile. Direct care is provided by qualified, experienced Direct Support Professionals and individualized care plans are developed by the Registered Nurse on staff. Megan's House services are provided in three locations: Valdosta, Albany and Waycross.
ABOUT EASTER SEALS SOUTHERN GEORGIA
Easter Seals Southern Georgia creates solutions that change the lives of children, adults and families with disabilities or special needs by offering a variety of programs and services that enable individuals to lead lives of equality, dignity and independence. For more information, visit us online at http://www.southerngeorgia.easterseals.com or call us (229)439-7061.