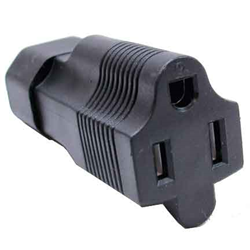 Power plug adapters are a great necessity these days. These variety of power plugs adapters allow customers to make use of their electrical devices, no matter where they are.
Hayward, CA (PRWEB) March 18, 2014
SF Cable, a leading online store dealing in computer cables and accessories, has recently launched the revised collection of power plug adapters. These innovative adapters are manufactured to work with every electronic device, regardless of their size, shape, and nature of connectors. The new product range includes several features that SF Cable has designed exclusively for advanced consumer electronics.
While officially announcing the improved power plug adapters range, the spokesperson of the company said, "Power plug adapters are a great necessity these days. Electrical sockets and plugs not only differ in size, shape, and voltage/current rating, but also vary according to regions or countries. We have added new features in our power plug adapters to make them even more useful for international travelers. These flexible units allow them to make use of their electrical devices, no matter where they are."
These improved adapters are manufactured to convert any country's power cord plug to that of another. "The new offerings of SF Cable include NEMA plug adapters, IEC plug adapters, and international plug adapters. These devices not only add value to a standard power cord plug, but also ensure connector conversions, such as IEC 60320 for C5, C6, C7, C8, C13, and C14," the company representative elaborated.
When asked to highlight the distinguishing features of SF Cable power plug adapters, he said, "All our plug adapters are manufactured according to the most stringent industry standards. Made of top-quality materials, they have REACH and RoHS compliance certifications. With these adapters, our consumers can use electrical goods easily without worrying about technical standards and incompatible sockets/plugs."
Available as 2-prong and 3-prong adapters, these electrical devices convert one form of plug to another. They cannot be used as transformers or voltage converters. For further information regarding the functionality and prices of SF Cable adapters, please visit http://www.sfcable.com/power-plug-adapters.html.
About SF Cable
SF Cable is recognized as an established wholesale distributor of computer cables, laptop products, security accessories, and home theater items. Since its inception in 2002, the company has been offering quality solutions for varied electronic equipment. It presents more than 8,000 SKUs of components, accessories, and cables designed for a vast assortment of consumer electronics.
The product inventory of SF Cable also includes custom solutions, such as networking cables, fiber optic cables, and modular adapters. The company offers prompt delivery services, competitive prices, lifetime warranty, and extensive product collection to meet its consumers' needs.
Contact Details
SF Cable, Inc.
28300 Industrial Boulevard Suite F
Hayward, CA 94545-4439
Toll-Free: 888-275-8755
Local: 510-264-9988
Fax: 510-264-9989