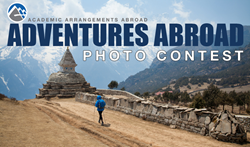 We've already received entries from talented photographers who were in destinations ranging from Antarctica to Egypt. We'd love to see more!
New York, NY (PRWEB) March 19, 2014
Last year, tour operator Academic Arrangements Abroad launched its first travel photography contest, Focus on Travel. You can see the quality and creativity of last year's winners here. That first competition was so successful that the company has decided to have another one.
"We're thrilled to kick off our second annual travel photo contest," said Cathy Farber, the company's Vice President of Social Media. "The theme for this year's contest is Adventures Abroad. Of course, the definition of an adventure will vary depending on the traveler. For one person, it might mean backpacking to a remote Buddhist monastery. For someone else, it could be dining in a French château."
The first-prize winner, as selected by a panel of expert judges, will receive a $1,000 credit any 2014 or 2015 Academic Arrangements Abroad cruise. Second prize is a $500 credit on a 2014 or 2015 Arrangements Abroad cruise, and third prize is a micro luggage scale.
Eligible contestants can submit a travel photo through the contest entry page. Through the link, individuals can also vote on selected entries, which will be displayed in a gallery. The most popular image will receive a People's Choice Award and a special prize. The contest, which is now open, ends Thursday, May 1, 2014, at 11:59 p.m. ET (U.S.).
"We've already received entries from talented photographers who were in destinations ranging from Antarctica to Egypt," Farber adds. "We'd love to see more!"
Photographs must be in digital format and have an accompanying caption. The caption must be complete and accurate, sufficient to convey the circumstances in which the photograph was taken. Disguising or misrepresenting the origin of content is cause for disqualification.
Only online entries will be eligible. No print or film submissions will be accepted for entry into the contest. The photograph need not be taken with a digital camera; scans of negatives, transparencies, or photographic prints are acceptable. All digital files must be 45 megabytes or smaller, and must be in JPEG or JPG, GIF or PNG formats. Photographs must have been taken within two years of the date of entry and may not previously have won an award in any other contest.
The contest is open only to U.S. citizens, who reside in the U.S. and who have reached the age of majority in their jurisdiction of residence at the time of entry. Employees of Arrangements Abroad, and their immediate family members or persons living in the same households of such employees, whether or not related, are not eligible. For additional details and the complete official contest rules, visit our Facebook page.
About Us
Academic Arrangements Abroad, a leader in cultural travel since 1977, designs and operates travel programs for sponsoring institutions that include the nation's top museums and alumni associations. For more information, call (800) 221-1944 or visit http://www.arrangementsabroad.com.
For more information on this release, please contact Sara Welch, Marketing & Communications, (212) 514-8921 or saraw(at)arrangementsabroad(dot)com.