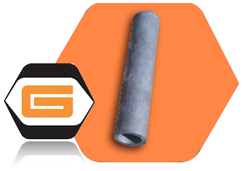 The Galvan Drive-Cap can be used with any type of 5/8" nominal ground rod, including copper-coated and hot dip galvanized rods.
Harrisburg, N.C. (PRWEB) April 02, 2014
Galvan Electrical Products has introduced a new product, the Galvan Drive-Cap, designed to protect ground rod drive ends from damage during installation. This is especially important where multiple ground rods need to be connected with threadless couplings. The Galvan Drive-Cap prevents "mushrooming", helping to ensure a better fit and a proper connection with the coupling. It also creates a larger "strike area" when driving the ground rod with a hammer or maul.
The Galvan Drive-Cap accommodates 5/8" nominal diameter copper-coated and hot dip galvanized ground rods. It is made from 7/8" outside diameter hardened steel stock and incorporates a 5/8" nominal diameter "integrity chamber", reducing the risk of mushrooming the drive end of the rod during the driving process.
The Drive-Cap helps keep the ground rod drive end within the parameters of the ANSI Approved /NEMA GR-1-2007 ground rod spec. This is critical where coupled ground rods are concerned.
For example, a 5/8" nominal copper coated rod can have a finished diameter that varies within the range of .555 and .565 inches, according to NEMA GR-1. A coupling built to this same spec must be able to resist a pullout force of no less than 1500 pounds throughout the specified diameter range of the rod. A ground rod installed without the Drive-Cap may be damaged to a degree that it is no longer within the spec for rod diameter and cannot be joined with a coupling.
Made in the U.S.A and featuring high-quality materials and construction, the Galvan Drive-Cap can be used with any type of 5/8" nominal ground rod, including copper-coated and galvanized rods.
About Galvan Electrical Products, LLC
Galvan Electrical offers a full line of electrical grounding products, accessories, connectors and tools that are used in residential, commercial and industrial applications, including construction, cable TV, lightning protection, power transmission and telecommunications. They are available from leading electrical wholesalers and distributors throughout the United States.
In addition, Galvan is the only U.S. manufacturer to produce UL-listed galvanized ground rods, UL-listed copper-coated ground rods and CSA-listed stainless steel ground rods for use in the U.S. and Canada. This gives contractors, wholesalers and utilities a safe, listed option for all three of the most commonly specified types of ground rods.
For more information call 1-800-277-5678; fax 704-455-5215; e-mail sales(at)galvanelectrical(dot)com or visit Galvan on the Web at http://www.galvanelectrical.com.