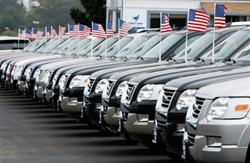 UsedCarsGroup.com survey suggests that 79% of car buyers use the internet to locate the vehicles that they buy. And surprisingly, 32% use mobile to find the car of their dreams.
Austin, TX (PRWEB) March 17, 2014
Making your car shopping an experience that you look back on as fun instead of aggravating is one of the benefits of shopping online websites. "Think of how many hours you could spend trying to find a car for sale that is affordable, meets your particular needs and is in good shape. If you have ever attempted to find that gem in the rough using traditional means, you know how insane it can be," says Ryan, the auto specialist at UsedCarsGroup.com
Still, shopping for a used car can be tricky if you are new to buying a car on your own. Used Cars Group offers the following tips for buying a used car.

Be realistic about what you actually need – a car that the family can take a vacation in as well as use around town for daily runs, a car for just two people to zoom around looking hip, a car for image and promotion purposes at your job.
Set your priorities of features including colors, fabrics, gadgets and mileage limits.
Make a physical list of those priorities with the most important as #1 and each one numbered below that.
Research your top three make and model choices, checking for recalls.
Investigate the cars history using CarFax
Inspect the car and look for signs that may indicate problems – a slight difference in the paint color in one area of the vehicle, warning lights indicating that the car needs maintenance, car doors that don't close exactly flush.
Know what your absolute financial limit is including taxes, title changes and insurance.
If you can arrange private financing through your bank or credit union, do so prior to searching for a car.
Look for terms like "lien holder", "lien", "salvage", "water damages" and either change your mind about buying the car or get the car inspected by a mechanic at the maker's dealership.
Know that you are not likely to find any used cars for sale that meet every one of the priorities on your list.
Finally, before you make the final choice online, have a "choosing party" and get your family or friends together to help you look at the pros and cons of your top three choices.
If you purchase a car from a private party, read all the details on the CarFax report. If the report indicates that there is a lien on it, make the seller provide you certified documentation that the loan has been paid off. Follow up with a call to the named lien company to verify the release of lien.
UsedCarsGroup.com survey suggests that 79% of car buyers use the internet to locate the vehicles that they buy. And surprisingly, 32% use mobile to find the car of their dreams. You are among the majority of car buyers that use the web to find used cars for sale and have dumped digging through want ads in the newspaper, looking through all the car sites on eBay or watching television ads of 30-seconds.
As auto manufacturers and dealerships continue to struggle to present cars to potential buyers, Online sites like AutoTrader, UsedCarsGroup.com and Edmunds.com provide an alternative method of locating sellers from the privacy of your own home. Having the ability to negotiate directly with the seller directlygives you control over your purchase instead of relinquishing it to an unknown third party that you have no reason to trust. Being a web savvy buyer puts you in the driver's seat and on the road to a great car buying experience.
About UsedCarsGroup.com:
UsedCarsGroup.com was started in 2007 and is headquartered in Austin, TX. Usedcarsgroup.com offers a fast and efficient solution to connect buyers with sellers of automotive vehicles across the U.S including dealers, car lots and private sellers. Reaches millions of unique visitors shopping for cars each month, and is a privately held company.