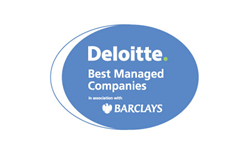 The Deloitte competition recognizes FreeFlow's exceptional capability to innovate and grow.
San Jose, CA (PRWEB) March 17, 2014
FreeFlow, the award-winning provider of inventory asset management technology and services, has re-qualified as a "Best Managed" company in Deloitte Ireland's Best Managed Companies awards program. First recognized as a Best Managed Company in 2010, FreeFlow has been recognized as demonstrating superior business performance for a fifth year running.
The competition benchmarked FreeFlow against top companies in Ireland against criteria including annual turnover and financial and operational performance.
"The Deloitte competition recognizes companies that have demonstrated an exceptional ability to innovate and grow," commented FreeFlow CEO Alan Scroope. "This positions FreeFlow to benefit as the global economy continues to improve."
The Best Managed Companies Awards Program was created to recognize the overall success of a company, including management strength, ability to innovate, strategic initiatives and financial performance – all the elements that contribute to a Best Managed company. The Best Managed Companies Awards Program is the only awards program that considers a business' performance from every perspective.
Brendan Jennings, Managing Partner, Deloitte and judging panel member commented: "This year's Best Managed Companies represent the best of innovation, creativity, dynamism, tenacity and excellence in the indigenous sector. Deloitte is proud to celebrate their success and potential. These awards acknowledge their hard work and commitment and we are delighted to showcase their achievements."
FreeFlow's technology and services combine to provide a new approach for enterprises to reach the global secondary market with surplus and returns inventory. Hosted online B2B auction technology, pre-auction market research and pricing advisory and post-auction financial settlement, all on a pay-as-you-go basis. This end-to-end solution has transformed the way enterprises view and manage surplus inventory.
About FreeFlow
FreeFlow has proven to be a successful partner by addressing its clients' needs to build secure alternative channels for surplus inventory. Slow-moving, aging or end-of-life finished goods as well as consumer returns sold as-is, or refurbished, represents a multi-million dollar market for FreeFlow's Global 2000 customers. For further information please see http://www.freeflow.com or follow us on LinkedIn.