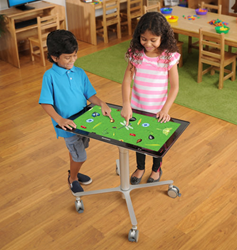 We created the Engage-NG™ with the unique needs of early childhood educators in mind.
Lewisville, NC (PRWEB) March 18, 2014
Kaplan Early Learning Company released yet another cutting-edge technology platform, the Engage-NG™ (Next Generation), a multi-touch table PC that engages children as they explore technology together. The exclusive Engage-NG™ doubles as both an interactive display board for classrooms and as an activity center for small groups with an extended range of portability.
Supporting up to four children at a time, the 27-inch touch screen can easily be switched from its horizontal position into a vertical position for a higher level of engagement in the classroom. The Engage-NG™'s adjustable stand makes it the perfect table PC for students in wheelchairs or with special needs, because it can tilt forward to give children better access to the screen.
Designed to withstand the active play of young children and developed with a focus on early childhood development standards, the Engage-NG™ can easily withstand regular classroom use and the active play of young children. The interactive table PC is also lightweight, compact and its wheels allow for easy movement around the classroom.
"We created the Engage-NG™ with the unique needs of early childhood educators in mind. We knew this device would need to be more portable and multi-functional than other interactive tables to make it an effective classroom technology solution," says Chris Gerblick, Vice President, Information Technology.
The Engage-NG™ features the Microsoft Windows® 8 operating system, runs Windows applications, and has a two-hour battery life allowing teachers to unplug and easily move it to another location. Each table PC comes with the Kaplan-exclusive Shine® Software and eight collaborative learning explorations. These eight explorations encourage young children to discover collaborative play while also completing clear learning objectives. The seven Shine® Software activities use common early childhood themes for better understanding of early childhood mathematical concepts.
The Engage-NG™ adheres to the National Association for the Education of Young Children (NAEYC) recommendations for the use of technology by young children and provides students with an intentional, effective tool that supports their learning and development in the classroom.
The Engage-NG™ (Next Generation) is now available on Kaplan Early Learning Company's website.
About Kaplan Early Learning Company
Kaplan Early Learning Company is based in Lewisville, North Carolina. Kaplan Early Learning Company provides products and services that enhance children's learning. Since 1968, the company has delivered innovative products and services that support educators and caregivers worldwide in the creation of quality learning environments.
###