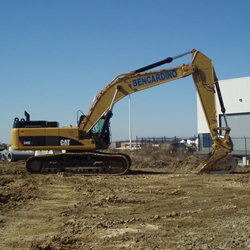 Princeton, NJ (PRWEB) March 16, 2014
Bencardino Excavating (http://www.bencardino.com), is beginning work at the MarketFair Mall in Princeton, NJ to renovate an existing building and lot to prepare for a new Seasons 52 restaurant. The building site was previously occupied by a Barnes & Noble bookstore, which was recently relocated as part of a major redevelopment plan by the MarketFair Mall.
The renovations will include running a new sanitary line and adding a grease interceptor to prepare the existing building for restaurant business. Bencardino will also be completely reconfiguring the parking lot, including clearing trees, demolition of the existing curb and sidewalks, resurfacing the pavement and adding 1400 ft. of new curbing.
The Bencardino Excavating crew was hired by Venture Construction Company based in Richmond, VA to work on this project; the two companies have a successful 20-year history of working together.
Bencardino's crew started work on March 10. The Seasons 52 restaurant is set to open its doors for business in spring of this year and will create around 100 new jobs in the Princeton area.