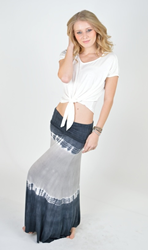 'Serenity is a big step in the right direction for us. Creating a line that is made in the USA has been a an important goal, and we're thrilled to release our first collection this fall!' - Michelle Marshall, Wear Me Out principal
Los Angeles, CA (PRWEB) March 17, 2014
Wear Me Out Clothing, fitness and yoga wear line, announces the launch of its new resort contemporary line "SERENITY" for Fall 2014. Designed to provide upscale resort style, Serenity is comprised of a wide range of maxi skirts and dresses, palazzo pants, shrug cardigans, off-the-shoulder sweaters and billowy tops. As the name of the line implies, the muted neutrals, subtle mineral washes and tie-dye prints embody a sense of relaxation and tranquility while still maintaining an air of elegance.
Serenity's pieces are perfect to mix and match together or wear as separates, pairing with jeans, blazers and accessories. Some of Serenity's leading pieces like the long flowing mineral wash maxi skirt and long sleeve off-the-shoulder grey ombré top have already favored by buyers as potential.
The Serenity line is made 100% in the United States with fine quality fabrics such as stretch jersey and French terry for maximum comfort and durability. Serenity will be available wholesale from $20-$60 and retail from $60-$150 at boutiques across the nation beginning fall 2014.
About Serenity
Serenity mixes comfort and style for a line of contemporary resort wear. Luxurious fabric and contemporary style inspired by the west coast lifestyle. Designed in California and made in the beautiful USA, Serenity balances luxé fashion and California chic. Available from $60-$150 at select boutiques across the nation. More information and Serenity products will be available online at http://www.serenityclothes.com.