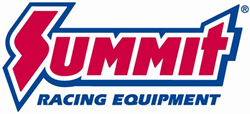 Tallmadge, OH (PRWEB) March 17, 2014
Flex-a-lite's Aluminum Radiator and Fan Kit and TransLife Transmission Cooler are specifically designed to control engine and transmission temperatures on 1997-2004 Ford Mustangs.
Flex-a-lite's Aluminum Radiator and Fan kit perfectly matches an aluminum radiator to a complementing electric fan. This ensures that the radiator is fully covered by the fan shroud, resulting in up to a 40 percent increase in cooling capability.
To avoid potentially devastating transmission temperatures, Summit Racing offers Flex-a-lite's TransLife Transmission Cooler. It can drop transmission fluid temperatures up to 20 degrees. Lower temperatures help ensure longer transmission life and more consistent shifting. The 5 inch x 12 inch cooler is 3/4 inches thick and has two 3/8 inch hose barb fittings for plumbing.
SEE THE FLEX-A-LITE MUSTANG RADIATOR AND FAN KIT AT SUMMIT RACING
SEE THE FLEX-A-LITE TRANSLIFE TRANSMISSION COOLER KIT AT SUMMIT RACING
Summit Racing Equipment
http://www.SummitRacing.com
1-800-230-3030