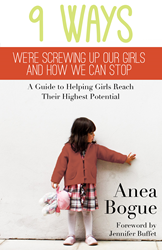 "Anea's book is a straight talking, straight shooting wake-up call for everyone who cares about women, girls, and health. It's a gem." -Christiane Northrup, M.D., New York Times bestseller: Women's Bodies, Women's Wisdom and The Wisdom of Menopause
Nashville, TN (PRWEB) March 18, 2014
Drawing from more than 20 years of experience working with girls and women, Ms. Bogue provides specific action steps that empower the reader to help create a world in which the female half of our "team" is consistently capable of thriving mentally, physically, emotionally, and spiritually.
As the author states: "From the time she is the ripe old age of ten, the average girl will begin to expend an extraordinary amount of precious life energy wondering what is wrong with her and why she can't be better, prettier, more popular, and more 'perfect.' When a girl walks through her daily life feeling the void created by 'I'm not good enough,' she will start to struggle with feelings of helplessness, anxiety, anger and even depression. She will often attempt to fill that void and soothe those feelings with behaviors that include eating disorders, drug and alcohol abuse, risky sexual behavior, teen pregnancy, cutting, bullying and unhealthy relationships. These behaviors can result in deep wounds and consequences that she will carry well into her adult life."
Fran Hauser, President of Time Digital, stated: "As women and as mothers, we need to be equipped to teach our daughters how to be confident and love themselves through all of life's ups and downs. Anea's new book teaches us how to empower our daughters to look inward for self-confidence instead of being overly influenced by today's stereotypes."
9 WAYS WE'RE SCREWING UP OUR GIRLS AND HOW WE CAN STOP will be released May 13, 2014 in trade paperback (ISBN 978-1-939447-40-1) and in e-book (ISBN: 978-1-939447-41-8) and will include a Foreword by Jennifer Buffett, advocate for women and girls, and President of the NoVo Foundation. For more information about the author, visit http://www.AneaBogue.com.