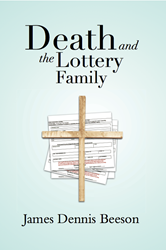 JACKSONVILLE, Fla. (PRWEB) March 18, 2014
Many people dream of winning the lottery; however, not many know what to do after all of the numbers line up. The characters in James Dennis Beeson's new book, "Death and the Lottery Family", deal with just that.
The main character, Penny Talbot, has just won the lottery that she and her family so desperately need. At first things seem to be going great, but before long, unforeseen complications arise that turn this dream come true into a nightmare.
"While I wanted to engage readers in an enjoyable read," Beeson said, "I hope they will also take a look at the concept of risk and how it applies to their lives."
"Death and the Lottery Family"
By: James Dennis Beeson
ISBN: 9781483652498
Available at Barnes and Noble, Amazon and Xlibris online bookstores.
About James Dennis Beeson
Dr. Beeson was born in 1926 to an Indiana farmer. After skipping his last year of high school and completing his education in the Navy College Training Program, he was sent to Notre Dame pre-med. He graduated from the Indiana Medical School and is a Board certified anesthesiologist. Beeson has practiced in Jacksonville for 42 years, where he lives with his wife.