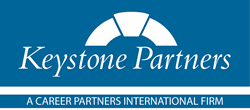 Boston, MA (PRWEB) March 17, 2014
Keystone Partners, a leading Boston-based career management and transition services consulting firm and the Boston office of Career Partners International, is expanding its business to Raleigh-Durham, North Carolina and has named Rick Pfeiffer as Vice President and General Manager. In his role, Pfeiffer advises organizations and senior leaders on complex career management and leadership development challenges. He brings a broad background of over 20 years of human resources and business development experience.
"We are eager to further develop our relationships in the Raleigh area and are confident that Rick is the person to do just that," said Elaine Varelas, Managing Partner for Keystone Partners. "His experience in human resources and business development, as well as his deep relationships in the HR community of Raleigh-Durham, makes him the ideal candidate to lead our office in the Triangle."
Prior to joining Keystone Partners, Pfeiffer built a successful consulting practice offering staffing, organizational/leadership development, career coaching and executive coaching services in both the Triangle and the Triad. He attended the University of Evansville, where he graduated with a Bachelor's Degree in Accounting.
Keystone Partners has developed a strategic partnership with Jobe and Associates, the Raleigh office of Career Partners International. Tommy Jobe, President and Founder, said, "We are excited to further develop the partnership we have with Keystone and welcome them to the market we have served for more than 30 years."
About Keystone Partners
Keystone Partners is a leading talent management and career transition services consulting firm based in Boston, Massachusetts. Keystone Partners' divisions include: Keystone Associates, comprehensive career management services through executive level; Essex Partners, premier career consulting exclusively for senior executives; and Camden Consulting Group, integrated talent management experts. Keystone is also a founding partner, and Jobe and Associates is a member and partner of Career Partners International. For more information, please visit http://www.keystoneassociates.com.
About Career Partners International
Established in 1987, Career Partners International is one of the world's largest and most successful global providers of talent management solutions. Organizations of all sizes and industries turn to Career Partners International to successfully assess, engage, develop and transition talent using the expertise of over 1600 highly experienced professionals in the areas of assessment, executive coaching, leader development and outplacement. With more than 220 offices in over 45 countries around the world, Career Partners International assures that its clients have local experts with global reach in talent development, career management, executive coaching, outplacement and career transition services. Additional information can be found by visiting http://www.cpiworld.com.