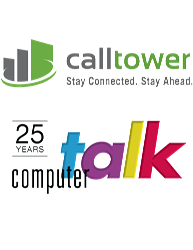 We are excited to be a part of this event. CallTower has several new solutions that we know will offer our customers many benefits.
(PRWEB) March 16, 2014
CallTower and ComputerTalk stated today that they will be jointly displaying at the Enterprise Connect Conference and in Orlando, FL on March 17th-20th. As a recognized leading providers of cloud-based enterprise-class unified communications and contact center solutions, CallTower and ComputerTalk will be exhibiting a variety of products including hosted voice enabled Lync, CallTower Complete Plus Voice and ice, ComputerTalk's native Lync Contact Center product.
Both organizations are guaranteed not to disappoint at the event. With a wide range of new product offerings CallTower and ComputerTalk are reshaping the way organizations think about their communications solutions. Attendees will see first-hand why CallTower is quickly becoming the favorite for enterprise hosted solutions like Lync Voice, Cisco, mobility, contact center solutions and more both domestically and globally!
"We are excited to be a part of this event. CallTower has several new solutions that we know will offer our customers many benefits, like our Hosted Lync Voice solution, our new mobile app, international expansion, contact center, and additional robust unified communications solutions," stated CallTower's Vice President - Sales & Alliances, Clay Shubin.
"ComputerTalk is working with CallTower on several large deals and Enterprise Connect is a great place for us to find new opportunities to work together. At the event, we'll be showing our support for CallTower's UC solutions and showcasing our award winning contact center for Lync," says Bryan Phillips, VP Partner Relations.
If you're in attendance make sure you stop by and visit with CallTower and ComputerTalk at booth 120.
About The Enterprise Connect Conference and Expo:
Enterprise Connect presents the leading market and thought leaders, comprehensive analysis, in-depth technical sessions and the largest and broadest exhibition. Everything at the event is focused on one over-riding goal: To help you make the best decisions possible about migrating, designing and implementing the right communications and collaboration products, services, software and architecture for your enterprise.
About CallTower:
CallTower is the leading provider of cloud-based enterprise-class unified communications solutions for growing organizations worldwide. We deliver integrated communication solutions to organizations utilizing best of breed technologies. We enhance our clients' strategic and business operational capabilities by integrating best of breed business phone service, mobile applications, email hosting, unified messaging, instant messaging, audio, web and video conferencing, collaboration tools, contact center, cloud services and global networks into one reliable platform.
About ComputerTalk:
ComputerTalk is a global company that offers cloud-based and on-prem Lync native contact center with an application development tool that allows end users to build applications with functions that include web-chat, Lync voice, and Skype voice & messaging.
ice is our native Lync Contact Center product that takes Lync-Skype integration to the next level. ice is an ACD and Speech IVR with an application development tool that empowers end users to build UC CEBP applications which will transform the way you interact with your customers.
ComputerTalk, experts in complex custom UC CEBP applications, is the current Microsoft Canada Communications Partner of the Year IMPACT award Winner. We are a Microsoft Online Service Advisor with Gold Application Development and Gold Communications competencies. ComputerTalk was founded in 1987 and is headquartered in Richmond Hill, Ontario, Canada.