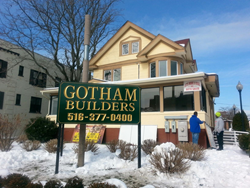 Freeport, NY (PRWEB) March 14, 2014
Gotham Builders have become known for their general contracting work in the five boroughs of New York City. Now, they are making the move out to Long Island. Gotham Builders has a new satellite office on Long Island at the old Buccaneer Crab House in Freeport, N.Y.
Gotham Builders renovated the two-story building that used to house the Buccaneer Crab House at 108 W. Merrick Road. The building now houses Gotham's state-of-the-art satellite office building. The new location gives Gotham Builders a footprint in the Long Island market.
One of the reasons Gotham Builders decided to expand to Long Island is to help residents there with cleanup from Superstorm Sandy. Currently Gotham is working with Long Island residence and New York Rising to help flood victims Raise or rebuild their homes.
One Freeport resident, Dennis Sperling, was appreciative of the assistance provided by Gotham Builders in the wake of the storm.
"I want to thank Gotham Builders for rebuilding my house after Superstorm Sandy," Sperling said. "They did a great job. My house looks like a show place."
Gotham Builders is family owned and operated by the Perrotta Family. Their experience dates back 35 years from Gotham's offices in Queens. They will now offer that experience and expertise to Long Island residents from the new Freeport office, which will serve Nassau and Suffolk counties.
Gotham Builders specializes in complete home remodeling projects, including installation and repair of vinyl siding, roofing, replacement windows, kitchens, bathrooms, basements, extensions and dormers. NO job is to big or to small. They are licensed throughout New York City and Westchester, Nassau and Suffolk counties, and provide homeowners in these areas with the best materials and services, completed professionally by their staff.
Call to speak to a Gotham Builders' consultant at 800-444-4923 or visit http://www.gothambuildersofnewyork.com.
About the company:
Gotham Builders is a full service general contractor in business for more than 35 years. Their main office is in Bayside Queens but they have recently purchased an old abandoned restaurant in Freeport Long Island called the "The Buccaneer Crab House" which they completely renovated and turned into an office. They provide a variety of home improvement and renovation services.