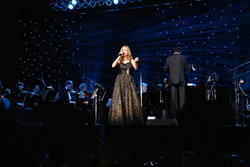 Loma Linda University Children's Hospital wants to inspire the kids we encounter to dream with no boundaries – to make the impossible possible.
Ontario, CA (PRWEB) March 17, 2014
The Citizen's Business Bank Arena was filled with vibrance, hope and enthusiasm along with approximately 2,000 guests during the 21st Annual Foundation Gala and Benefit Concert, "I'm Possible, Making the Impossible Possible," for Loma Linda University Children's Hospital (LLUCH) on Thursday, March 13. $635,000 was raised for the hospital through the silent, live and almost live auctions throughout the course of the evening as well as sponsorships and other donations.
"Loma Linda University Children's Hospital wants to inspire the kids we encounter to dream with no boundaries – to make the impossible possible," said Jillian Payne, executive director of LLUCH Foundation. "The critical funds raised through this awesome event will allow the hospital to provide advanced medical care through cutting-edge technology, innovative research and world-class patient care for pediatric patients and their families."
Heather Froglear, from K-FROG 95.1 F.M., and actor, Craig Bierko hosted the event as the first-ever celebrity emcees in Gala history. "It's hard to say why we feel the need to do certain things at certain times in our lives," said Bierko, "But when those moments come along, the question itself seems to fall away, and you know only one thing for certain—it's time to act. This is the way I felt after visiting Loma Linda University Children's Hospital."
The evening kicked off with the singing of the National Anthem by LLUCH patient and singer, Hugo Ramos, who also sang later in the evening. Hugo has undergone numerous surgeries at LLUCH throughout his childhood to repair his cleft pallet. "I feel like I'm at home when I visit the hospital. They always make me feel very comfortable," Ramos said in a video shown during the event.
During the program, LLUCH patient, 7-year-old Kimie Metcalf was presented with the 2013 Hometown Hero Award. Diagnosed with leukemia before kindergarten, Metcalf has been cancer free for over a year. She donates her time making appearances for the Leukemia & Lymphoma Society, supports her own Team Kimie fundraising events, and she continues to be an on-going advocate for Children's Hospital. She is a constant reminder that it's never too early to make a difference.
Dennis and Carol Troesh, long-time supporters of the hospital, were recognized with the 2013 Shirley N. Pettis Award. For the past 13 years, they have taken a personal interest in projects at Loma Linda University Health and Children's Hospital, including support relief efforts in Haiti and Alexandria, Egypt. They are always willing to roll up their sleeves and be an active participant in making a difference for children at LLUCH.
The evening concluded with a concert featuring classical singer, Jackie Evancho, accompanied by the San Bernardino Symphony conducted by Evancho's conductor, John Mario Di Costanzo.
"Our deepest appreciation goes out to all those who participated in this year's Gala," said Richard H. Hart, MD, DrPH, President of Loma Linda University Health. "Thank you for catching the vision of creating tomorrow's healthy kids and making their lives and futures 'possible.' Because of all the support we have received, Children's Hospital can continue to stretch our capacity to care for children in Southern California and beyond."
Additional photos form the event are available for download here: http://bit.ly/1p3Xgex.