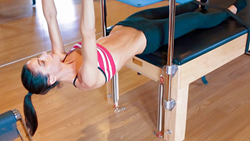 Pilates is all about building up a strong support centre via the body's core.
(PRWEB) March 19, 2014
In 35 Benefits of Pilates That Go Beyond Weight Loss, Gollan shows how other gains from the exercise regime - which is practiced by both men and women - includes muscle strengthening, toning, improved posture and better flexibility.
She goes on to list all 35 benefits of Pilates in her article. Meanwhile, here are some of those body benefits right here:

Improves overall health. Pilates improves the body's circulation, increases bone density, and helps with heart health. It also cuts down on the likeliness of developing diabetes or arthritis.
Improves athletic performance. Many professional athletes and dancers use Pilates for cross-training purposes to help balance muscle strength.
Makes pregnancy easier. Pilates exercises can make labour easier as well as reducing ongoing aches and pains.
Good for recovery. Many weight trainers and athletes use Pilates to help them regain strength.
"There really are so many benefits from Pilates, more than even the 35 I list in my article," says former professional dancer Gollan. "One of my favourites is the fact that it controls overall body control, making you aware of how you move and carry yourself; regardless of what you happen to doing at the time.
"Another plus is the way is encourages uniform muscle development. That's because it's all about building up a strong support centre via the body's core. It's particularly beneficial for weightlifters and athletes since it encourages all the muscles to develop at the same time rather than the arms at the expense of the legs and vice versa – and because of this there is less chance of an individual injuring him or herself."
Reduces back pain. Regular Pilates exercises can help muscles heal faster.
Improves Sports Performance.
Helps with the prevention of injuries. Pilates strengthens core muscles and improves flexibility – both of which helps the body move properly.
Reduces stress on the joints. Improved posture means less reliance on vulnerable joints and discs.
Builds Strength but without bulk. Pilates isn't about body building – rather it leads to a thin and lean look.
Sculpts the body. Pilates is also toning and can result in a neat waist and strong shoulders, arms, legs and bum.
Increases flexibility.
Improves balance. This in turn boosts agility.
Improves posture. By strengthening the core muscles, Pilates allows an individual to walk properly without unnecessary stress on joints and muscles.
Flattens the stomach. The core muscles are in the body's stomach region therefore because they're getting most of the attention, they'll be in peak condition.
Increases energy. Like most exercise routines Pilates releases endorphins, leading to a sense of well-being and a desire to 'get on and do things.'
Reduces headaches. Just improving the posture can help reduce the incidence of migraines and headaches. Inner Strength Pilates actually provides focused headache reducing Pilates classes.
Improves circulation. Exercises leads to a quickened blood flow and more oxygen in the blood, therefore benefiting the body all round.
Increases stamina. Need to improve endurance levels? Then opt for Pilates.
Improves breathing. Not only does Pilates help to eliminate toxins, it also leads to a much healthier looking skin.
Clarifies the mind. Like many exercises there are all sorts of mental benefits from Pilates. For instance it can help an individual focus better as well as improve mood and concentration.
Improves functional fitness. This means that users improve muscles that they will actually use, rather than just admire in the mirror.
Leads to better relaxation. Even just one class can result in a better night's sleep and less tension in the body.
Gollan and her team hold a succession of Pilates, Barre and Reformer classes at the Inner Strength Pilates studios in Adelaide's King William Road where individualized programmes are devised for every client. Meanwhile, a class timetable is available on the company's website. More information can also be found of their Facebook page or Google+ pages for Hyde Park and Goodwood.