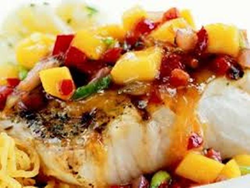 "This recipe will make you feel like you are on the beach, even if there's still a little snow on the ground." -Chef Mac Arrington
(PRWEB) March 15, 2014
Here is a recipe that will encourage warmer thoughts as spring beckons – delicious and tropical Mahi Mahi tacos! According to GetMaineLobster.com Chef Mac Arrington, this Seared Mahi Mahi Tacos with Lime Crema and Mango Salsa recipe "will make you feel like you are on the beach, even if there's still a little snow on the ground."
In this convergence of sparkling flavors, the sweet and sour lime crema combined with the tropical fruit salsa brings out the freshness of the seared Mahi Mahi – currently on special at GetMaineLobster.com – waking taste buds up from winter doldrums.
Ingredients include 1 lb fresh Mahi Mahi; 1 tbsp olive oil; 1/3 cup sour cream; 1 lime, juiced and zested; 1 tsp ginger, minced; 1 mango, peeled, seeded, small dice; 1 cup; pineapple, peeled, small diced; 1 avocado, diced; ½ red onion, fine dice; 1 jalapeno, minced; 6 to 8 tortillas; 1 cup cilantro, picked; 1/8 tsp cayenne pepper; ¼ tsp cumin, ground; pinch of sugar; salt & pepper to taste.
To prepare the Mahi Mahi, temper fillets at room temp for 5 to 10 minutes and season with salt and freshly ground black pepper. Heat the olive oil in a large pan over medium-high heat. Once the oil is hot, carefully add mahi mahi to the pan, and cook until each side is golden brown and the fish is warm in the center – approximately 3 minutes per side, based on the size of the fillets. Remove from the pan.
Next, in a large bowl, whisk the sour cream with lime juice, lime zest, ginger, salt, freshly ground black pepper and sugar. In another small bowl, combine mango, pineapple, avocado, red onion and jalapeno with cumin and cayenne pepper. Warm the tortillas in the microwave in the sealed package for 20 to 30 seconds to soften. To assemble, place mahi mahi in the center of the tortilla; drizzle with lime crema; top with salsa and a few cilantro leaves. Enjoy!
For more delicious and creative offerings, visit Get Maine Lobster's wide range of seafood, access other healthy lobster recipes or view current specials by visiting GetMaineLobster.com or calling (866) 562-.4817.
About GetMaineLobster.com
GetMaineLobster.com, a division of Black Point Seafood and Black Point Gourmet, hand-selects the finest Maine lobster, seafood and beef products for convenient distribution throughout the United States. Their passion is to make fresh, quality seafood readily available to customers across the country, which is why they buy from only the most trusted, well-established suppliers to ensure that they receive the finest products available.
GetMaineLobster.com was selected out of the more than four million small American businesses served by Chase bank to represent its new Platinum Business Checking product for its 2013 national advertising campaign.