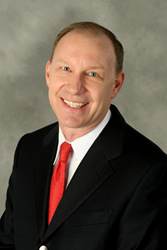 Falls Church, VA (PRWEB) March 15, 2014
During National Nutrition Month this March, Dr. William Dougherty is raising patient awareness of the effects that diet can have on tooth health. Patients who practice good oral hygiene habits and eat an ideal diet can strengthen their teeth and significantly reduce the likelihood of tooth loss. In the event that some teeth cannot be saved or already have been lost, Dr. Dougherty offers patients numerous tooth replacement options, including dental implants in Falls Church, VA.
Dr. Dougherty reminds patients that they can improve tooth strength by increasing their intake of nutrients that support bone and enamel strength while limiting processed grains and sugars, which contribute to tooth decay. Proteins play an essential role in repairing the teeth and jaw, while calcium and Vitamin D contribute to bone and enamel strength. These nutrients can be obtained from meat, egg yolks, beans, milk, and even soy milk. Grains and tea respectively contain magnesium and fluoride, which bolster tooth strength. Additionally, certain fruits, including grapefruit, lime, and cranberry, can support oral health by improving gum health and killing bacteria in the mouth.
Along with good oral hygiene habits, nutrition can make a significant difference in preventing tooth loss. Dr. Dougherty reminds patients that, besides cosmetic effects, losing a tooth can have numerous undesirable consequences. A patient's ability to speak clearly and eat certain foods may be affected, neighboring teeth may shift out of place, and bone density often decreases. Considering this, it is worthwhile for patients to focus on prevention through better nutritional habits.
When patients do lose teeth, they can visit Dr. Dougherty to receive dental implants in Falls Church, VA. Implants are placed directly in the jaw, where they fuse with the bone over time, preventing bone density loss and offering secure, permanent tooth replacement. Dental implants are not the ideal option for every victim of tooth loss, but if a patient has sufficient bone density and gum tissue to support implants, Dr. Dougherty often recommends them. Anyone who has lost teeth and would like to schedule a consultation regarding dental implants in Falls Church, VA, is encouraged to visit Dr. Dougherty's website or call his office.
About the Doctor
William V. Dougherty, III, DDS is a general dentist offering patients personalized dental care in Falls Church, VA. He is part of one percent of dental professionals providing the LANAP® FDA cleared laser procedure for gum disease and periodontal treatment. To learn more about William V. Dougherty, III, DDS and his dental services visit his website at http://www.doughertylaserdentistry.com and call (703) 584-7554.