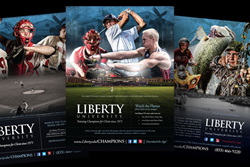 Lynchburg, VA (PRWEB) March 15, 2014
The 29th annual Educational Advertising Awards, sponsored by the Higher Education Marketing Report (HEMR), have been revealed, and Liberty University's Marketing Department received a record number of honors for its staff.
Marketing teams earned recognition in 11 categories, including three gold, two silver, two bronze, and four merit awards.
"Over the past three years, God has truly blessed our office with talented individuals who excel with creativity, all while striving to meet the needs of the university's growth and development. Our office has made great strides in uniting the university brand and message and will continue to do so, ensuring that Liberty and our mission to Train Champions for Christ stand out among other academic institutions," said Ron Kennedy, senior vice president of Marketing at Liberty.
The Education Advertising Awards is the largest educational advertising competition of its kind in the United States. This year, more than 1,000 colleges, universities, and secondary schools from all 50 states and several foreign countries submitted nearly 2,000 entries. Liberty earned the third-highest number of awards in the competition.
Judges included a national panel of higher education marketers, advertising creative directors, marketing and advertising professionals, and the HEMR's editorial board.
Liberty's gold medal winners included a Branding Advertisement designed by Josh Rice and Carter Wingfield that appeared in Fellowship of Christian Athletes (FCA) Magazine. Jordan Jaime and Bethany Schaeffer were the project managers, Sarah Wittcop was the manager, and Heather Usewicz wrote the text.
Siu Yu "Fish" Hsu served as project coordinator and Carrie Bell was the designer for a Social Media Facebook Contest page that generated 100,000 "likes" for Liberty and earned a gold award. Rebecca Murtha and Morgan McCarty wrote and edited the content.
Designer Matt Weise and project coordinator Whitney Delaney earned a gold award for the printed design of ski gloves sold to promote the Liberty Mountain Snowflex Centre.
A Cinematic Arts Premiere Weekend Brochure, designed by Rachel Reitenbach and Matt Weise, won a silver award. Danielle Verderame and Paige Counts also contributed to the brochure.
Rachel Dugan and Ashley Holloway designed a Flames Kids Club promotional Coloring Book that also received silver recognition.
Bronze award winners were Ashley Porter and Dugan, who designed a poster for Liberty's women's basketball team, and JaSung Gu, Cami Smith, Emily Watkins, and Kevin Mangiuob, who provided design, text, and photography for a Hall of Champions direct mailing.
Dugan was the main designer and was joined by contributing designer Rice and researcher Kirstin Spivey for the Liberty University Rebrand Logo that received a merit award. Also on the team were Kristin Conrad as marketing director, Sarah Wittcop as marketing manager, Jaime and Shaeffer as project managers and researchers, and Usewicz as a contributing writer.
Gu and Reitenbach collaborated on the design of a September CFAW Mailer that earned a merit award, with contributions from Whitney Moon, Smith, and Watkins.
Reitenbach, Hsu, and Kayla Vinson also received a merit award for their production of a Residential Student Graduate Viewbook, and Dugan, Porter, Kathleen Ostrom, and Bethany Stafford teamed up to earn a merit award for their 2013 Homecoming Total Integrated Campaign.
View samplings of the winning works on Liberty's News & Events page.
About Liberty University
Liberty University, founded in 1971, is the largest private, nonprofit university in the nation, the largest university in Virginia, and the largest Christian university in the world. Located near the Blue Ridge Mountains on more than 7,000 acres in Lynchburg, Va., Liberty offers more than 350 unique programs of study from the associate to the doctoral level. More than 180 programs are offered online. Liberty's mission is to train Champions for Christ with the values, knowledge, and skills essential to impact tomorrow's world.