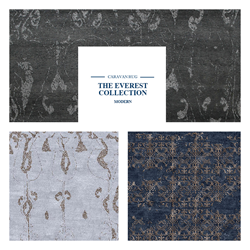 The Everest Collection is a series of luxury modern area rugs, hand knotted in Nepal.
Beverly Hills, CA (PRWEB) March 24, 2014
Caravan Rug, a long-established Beverly Hills rug store, has just announced the arrival of two new additions to their Everest collection of modern designer rugs. The Everest Collection is a series of luxury modern area rugs, hand knotted in Nepal.
The two new rugs are named Infinity and Dropkat and each comes in a variety of size and color options.
Infinity modern rugs display an abstract two-color design that evokes a classic regency pattern. This enables them to work in both a contemporary and a more traditional setting. These luxurious area rugs are hand knotted in Nepal from high mountain wool and bamboo silk. They come in a nice range of tasteful color combinations.
Dropkat area rugs bear a distinctive two-color abstract design that shows both ikat and modern art influences. Although they are decidedly modern, the quiet subtlety of their design gives them the flexibility to work in a more traditional setting if need be. Dropkat rugs are luxurious to the touch, hand knotted in Nepal from mountain wool and lustrous silk.
The Everest Collection and all of Caravan's modern rug collections are on display at Caravan's newly-remodeled showroom at 8725 Wilshire Boulevard, Beverly Hills, CA 90211 and on their online rug store.
Known for decades as a leading purveyor of traditional, transitional and antique rugs, Caravan is fast becoming L.A.'s leader in trend-setting designer rugs. These inspired designs are capturing the attention of the industry's top interior designers, and are on track to emerge at the forefront of today's carpet couture.
In addition to having the largest retail rug showroom in the Los Angeles area, Caravan is also a manufacturer and distributor of fine handmade area rugs. They supply their branded creations to a large network of dealers all over the country. Caravan owns several manufacturing centers in Afghanistan, Pakistan, India and Nepal, where these rugs are hand woven in the centuries-old method.