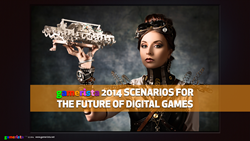 We see the entire video game industry at a pivot point in 2014 with major changes happening more quickly than ever before. That sounds like an alarmist cliche but every aspect of the industry is currently undergoing sudden and truly radical shifts.
San Francisco, CA (PRWEB) March 16, 2014
Gamerista (tm), a leader in digital video game user and audience research and development, (http://www.gamerista.net) just released their "2014 Scenarios for the Future of Digital Video Games" forecast" which predicts a wide range of video game industry upheavals and changes.
http://www.slideshare.net/thegamerista
While announcing the unveiling of its "2014 Scenarios for the Future of Digital Video Games" forecast released at the 2014 Game Developer's Conference in San Francisco, Burnes Hollyman, Gamerista's (tm) President said, "We see the entire video game industry at a pivot point in 2014 with major changes happening more quickly than ever before. That sounds like an alarmist cliche but every aspect of the industry is currently undergoing sudden and truly radical shifts. The whole game ecosystem is in play. We applied our futurist scenario building techniques to identify over 25 key areas where these shifts will occur. In 2014, the video games industry will be a $100 billion worldwide marketplace. Nobody has ever seen the scope, magnitude and growth of changes happening, on so many fronts at once, across an industry this large so quickly."
Hollyman points out that "2014 will be the year that the video games industry finally realizes that its true focus should be on targeting key demographics and users rather than simply thinking about what types of consoles, platforms and technology they use." " 'It's the audience, stupid!' " Hollyman noted for emphasis. "Film, television and interactive have known this since Day 1. The good news for game companies is that this realization will mean major new revenue opportunities from advertisers, sales, subscriptions and in-game purchases and other sources. That has major implications for how, what, when, and where video games are created, distributed and consumed," Hollyman stated. "For example, women who comprise 50% of the world's population, are dramatically under represented and vastly underserved. It is pathetic to even have to state so obvious a fact. It is no longer a simply a 'dude, it's soooo awesome' shooter audience. In fact, shooter games only represent around 20% of the total market. But it's also much more than just Facebook Moms playing "Farmville" or puzzle games for 8 hours a week." Hollyman emphasizes that "it is a market comprised of half of humanity and as complex as women are across ages, classes, gender preferences, languages, dialects, habits, cultures, geographies and infinite sensibilities. So game makers, publishers and marketers will need to 'lean in' and figure out how segment and target this hugely diverse female demographic with a wide range of new games based on newly-identified demographics and needs.
On the technology front, Hollyman says that "there is an entire new line of powerful 'Next Gen' consoles which have just hit the marketplace from Sony, Xbox and Nintendo vying to dominate the living room but also equipped as trans-media devices for not only games, but TV and the web and are controlled by voice and gestures. This has huge implications for new game-related content." Hollyman added. "Besides the console player networks, there are entirely new distribution platforms like Valve's Steam which are creating new venues for entirely new types of games. The flourishing of new 'indie' game titles like 'Gone Home' and many others show that we have long ago left the homogenous world of yet-another-set of 'shooter games' to expand into entirely new, compelling types of experiences. Everyone is hungry for great new compelling content which will redefine the video game medium as it propels forward and evolves."
Hollyman notes that "although virtual reality (VR) has been hyped to death recently, Sony's announcements for its VR headset will add to Oculus Rift's Virtual Reality headset technology race, as well as Google Glass, to open up more immersive interactive game experiences. At the same time, the introduction of affordable 4K Ultra HD high resolution display screens are also further pulling us all closer towards more immersive game experiences every day."
"Perhaps the one area where things look relatively hopeless for smaller studios making games is mobile. With more than a quarter million mobile games on app stores today, the chances of having a breakthrough game title are at a probability level of 0.000004 percent. The big studios and brands will increasingly dominate the Top 10 lists leveraging their marketing muscle and high production values and most of all the others will get lost in the shuffle" Hollyman states. "Try to win 'American Idol', produce a hit song or movie instead; your odds are way better."
Hollyman sees US mobile game makers as stuck in their own backyards and not getting out much to the wider world. "The other major factor facing American mobile game makers is the basic fact that the USA doesn't even figure as a major player in this market anymore," he emphasizes. "Billions of people with mobile devices now live in China, India and Asia. Even Brazil's population is larger than the US. The rest of the world dominates game audiences now and game designers and developers need to realize this fact and go global in their game development and distribution."
Hollyman also feels that "it is absurd that we have been accustomed to buying our mobile games from only two major App stores in the US. There will be many major new entrants and distribution outlets emerging to compete with them such as amazon.com, Steam, Samsung and a host of others. For mobile games, this will favor Android-based games. In China, for example, Tencent is dominating distribution."
"This year will also be the year of streaming and trans-media platform gaming in a variety of ways, making studios and publishers platform agnostic, playing across web browsers to mobile devices and console and desktop devices.The traditional console market will become almost entirely digital downloadable across platforms" Hollyman points out. "We are now in the "Netflixification" phase of video game distribution." He concludes that "ironically the age of PC-based desktop gaming is still very strong and we will see a major uptick in new Massive Multiplayer Online (MMO) games which are truly remarkable and ultra high resolution like 'Star Citizen' from Cloud Imperium and 'Shroud of the Avatar' from Portalarium. Everything is up for grabs in the entire video games industry."
Video game industry professionals and anyone in its vast ecosystem, from agencies, hardware, software, services to infrastructure providers interested in learning more about industry trends, user and audience experience and new leading edge development can visit http://www.gamerista.net. Media and press seeking interviews or further information should contact Burnes Hollyman at +1-512-897-7100.
Gamerista (tm) based in Austin, Texas, (http://www.gamerista.net) conducts digital video games research and development, focusing on strategy, user and audience experience research and testing and digital video games industry ecosystem market research.