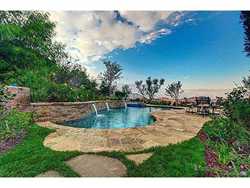 "We are already on our way to a great year in Anaheim Hills because of that commitment to helping buyers and sellers make the most informed decisions they can," said Chris Pollinger
Irvine, CA (PRWEB) March 17, 2014
As the Southern California real estate market enters its fourth year of expansion, the largest luxury brand in the market, First Team Estates - Christie's International had their leadership recognized in coverage in the Orange County Register for one of their showcase listings.
"The estate at Pointe Premiere is a prime example of how we continue to innovate in the ways that serve buyers and sellers," said Chris Pollinger, Senior Vice President, Sales, First Team Real Estate. "The coverage in the Sunday, March 2nd edition of the Orange County Register told the story of this incredible $3.39 million estate for nearly a million newspaper readers and potential home buyers. This is why First Team sales are up 50% in Anaheim Hills over this time last year. We constantly work to get the best value for our buyers and sellers."
Detailed in a report from Marilyn Kalfus of the Orange County Register, the estate has a view across Orange County that extends all the way to the Pacific Ocean, while backing to trails to two different wilderness parks. Centered in the middle of one of the most exclusive neighborhoods in Anaheim Hills, the exquisite property shows how First Team market share for the first two months of the year shot up by over 50%, much faster than its nearest competitor and outgrowing the area real estate market as a whole as well.
"We spend a great deal of time training our agents and staff to make sure that they can recognize the unique value in every property, and then work with buyers and sellers to unlock that value," explained Pollinger. "We are already on our way to a great year in Anaheim Hills because of that commitment to helping buyers and sellers make the most informed decisions they can."
Comparing year over year statistics, First Team Real Estate, the parent company of First Team Estates - Christie's International grew it's share of the Anaheim Hills residential real estate market to 15.4% up from 10.2% the year before, for an increase of over 50%.
On Sunday, March 2, 2014, the Orange County Register completed a feature story on the estate at 1198 Pointe Premier in Anaheim Hills, CA listed by First Team agent Kathy Leimkuhler. For the story as well as pictures of the estate, click here http://www.ocregister.com/articles/home-603792-premier-built.html.
ABOUT FIRST TEAM ESTATES - CHRISTIE'S INTERNATIONAL REAL ESTATE
First Team Estates - Christie's International Real Estate specializes in selling Orange County's most unique and exclusive properties. As part of the luxury division of Southern California's most trusted real estate company, First Team Real Estate, First Team Estates has been recognized for its unparalleled level of service for estate buyers and international buyers in major media in Asia and the United States. In 2011, 2012, and 2013 First Team Estates - Christie's International Real Estate was recognized as part of the Best Real Estate Company by the annual Orange County Register survey of 100,000 Southern California households. We can be reached at (888) 236-1943.