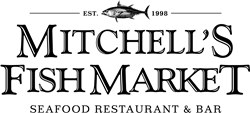 Orlando, FL (PRWEB) March 18, 2014
Mitchell's Fish Market has teamed with Bacardi U.S.A., Inc. to host its first national handcrafted cocktail dinner. The four-course, island-inspired menu, will be featured at all Mitchell's Fish Market and Columbus Fish Market locations for one night only on Thursday, April 3 at 7 p.m. Each flavorful course will be paired with an equally delicious cocktail made with fresh ingredients that are reminiscent of warm coastal locations.
"Inspired by the tropics, the special menu features light and fresh items created using flavors such as pineapple, coconut, and jerk spices that are typical of the islands," said Will Wadsworth, Executive Chef of Mitchell's Fish Market.
For a few hours, guests will be whisked away to images of sea and sand while enjoying the featured island-inspired menu which includes:
Appetizer: Tuna Avocado Poke with crispy plantain chips, sweet English peas, lemon zest and fresh mint accompanied with The ST-GERMAIN® Cocktail
Salad: Citrus Spring Salad - Fresh baby spring lettuces, citrus vinaigrette, goat cheese crumbles, and toasted pine nuts accompanied with GREY GOOSE® Grapefruit Basil Martini Cocktail
Entrée: Island Jerk Cobia topped with Mango Salsa, with coconut rice and black beans accompanied with BACARDI® Pineapple Coconut Mojito
Dessert: Dark Chocolate and Marcona Almond Torte with a Scotch Honey Anglaise accompanied with DEWAR'S® Highlander Honey Dessert Coffee
The featured menu will be offered at $49.99 plus sales tax and gratuity per person. Due to the exclusive nature of the dinner, reservations are required. Participating restaurants include: Mitchell's Fish Market restaurants in Jacksonville, FL; Sandestin, FL; Tampa, FL; Winter Park, FL; Carmel, IN; Louisville, KY; Newport, KY; West Chester, OH; Birmingham, MI; Livonia, MI; Rochester Hills, MI; Lansing, MI; Cleveland - Woodmere, OH; Homestead, PA; South Hills, PA; Brookfield, WI; and two Columbus Fish Markets in Columbus, OH. For location information, please visit http://www.MitchellsFishMarket.com.
###
About Mitchell's Fish Market
Founded in 1998, Mitchell's Fish Market has 18 locations – including two Columbus Fish Markets – throughout Florida, Illinois, Indiana, Kentucky, Michigan, Ohio, Pennsylvania and Wisconsin. Mitchell's Fish Market's delicious sea bass is certified by the Marine Stewardship Council (MSC), ensuring the restaurant's commitment to serving only the highest quality seafood available. Updated twice daily, the ever-evolving menu puts the finest and freshest seafood from every coastline on guests' plates. For more information, visit http://www.MitchellsFishMarket.com.
About Bacardi U.S.A., Inc.
Bacardi U.S.A. Inc. is the United States import and distribution arm of one of the world's leading spirits and wine producers. The company boasts a portfolio of some of the most recognized and top-selling spirits brands in the United States including BACARDÍ® rum, the world's favorite and best-selling premium rum, as well as the world's most awarded rum and world's most awarded spirit; GREY GOOSE® vodka, the world-leader in super-premium vodka; DEWAR'S® Blended Scotch Whisky, the world's most awarded Blended Scotch whisky and number-one selling blended Scotch whisky in the United States; BOMBAY SAPPHIRE® gin, the top-valued and fastest-growing premium gin in the world; CAZADORES® 100 percent blue agave tequila, one of the most popular premium tequilas in Mexico and the United States; MARTINI vermouth and sparkling wines, the world's leading vermouth and the world's favorite Italian sparkling wines; and other leading and emerging brands. For additional information, visit http://www.bacardiusa.com.
About ST-GERMAIN®
ST-GERMAIN® is the first liqueur in the world, created in the artisanal French manner, from freshly handpicked elderflower blossoms. It has a light, refreshing sweetness with notes of pear, citrus and tropical fruits. ST-GERMAIN® has received every major accolade in the spirits industry, and has been heralded by The New York Times as one of the most influential cocktail components of the last decade. Extremely versatile, ST-GERMAIN® adds character to many cocktails and mixes well with all base spirits in addition to wine and Champagne. The signature ST-GERMAIN® Cocktail - made with ST-GERMAIN®, sparkling wine, club soda and a lemon twist- is a simple yet sophisticated cocktail for any occasion.