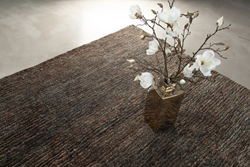 The Hemp Original line of area rugs have a rough organic texture and natural look.
Beverly Hills, CA (PRWEB) March 16, 2014
Caravan Rug Corp., a world-renowned producer and distributor of fine, handmade Oriental rugs based in Beverly Hills, CA, has just unveiled their newest collection of modern designer rugs, the Hemp Collection. This cutting edge contemporary line is broken out into four styles, each in a variety of colors and sizes:
The Hemp Original line of area rugs have a rough organic texture and natural look. Thick and durable, their character progressively improves with age. They come in designer tones flecked with random highlights that add a quiet charm to any contemporary interior. Natural plant-based rugs are a perfect choice for today's environmentally-conscious designers.
The Hemp Designed series has a rugged organic feel in an array of vibrant colors and patterns at budget-friendly prices.
The Hemp Raised series uses texture to maximum effect. Knotted by hand in India, these two-color area rugs impart a magical confluence of complementary contrasting colors and inspired designs. They must be seen and touched to be fully appreciated.
The Hemp Ribbed collection boasts a unique texture reminiscent of wide-wale corduroy in a tight pattern of two harmonious colors on different levels. It's like a natural terrain on your floor.
These luxurious area rugs are on display at Caravan's newly-remodeled showroom at 8725 Wilshire Boulevard, Beverly Hills, CA 90211 and on their online rug store.
Known for decades as a leading purveyor of traditional, transitional and antique rugs, Caravan is fast becoming L.A.'s leader in trend-setting designer rugs. These inspired designs are capturing the attention of the industry's top interior designers, and are on track to emerge at the forefront of today's carpet couture.
In addition to having the largest retail rug showroom in the Los Angeles area, Caravan is also a manufacturer and distributor of fine handmade area rugs. They supply their branded creations to a large network of dealers all over the country. Caravan owns several manufacturing centers in Afghanistan, Pakistan, India and Nepal, where these rugs are hand woven in the centuries-old method.