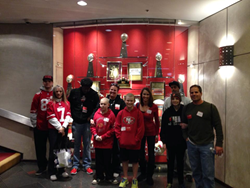 "In three years we have helped care for over 80,000 courageous kids with cancer and other life threatening illness all over the globe," said Erik Rees, Foundation Chairman and Jessie's Daddy
Irvine, CA (PRWEB) March 16, 2014
After 3 years of growth, the Jessie Rees Foundation on Saturday, March 29 will ask its over 300,000 friends globally to Imagine the Possibility of Caring for courageous with cancer and other life threatening illness in ways never before possible.
"In three years we have helped care for over 80,000 courageous kids with cancer and other life threatening illness all over the globe," said Erik Rees, Foundation Chairman and Jessie's Daddy. "We remember every day though that we started with a question Jessie asked, 'How can we help them' when talking about her friends that were in in-patient oncology care at CHOC in Orange, CA. From that moment to today, we have grown by continuing to Imagine the Possibility of caring for every courageous child facing cancer and that is what we will ask our friends to join us in on March 29."
The celebration will include special performances by international recording artists The Bolts as well as appearances by dozens of Olympic medalists and other celebrity athletes.
"We have over 150 All Star athletes that have engaged with us to teach everyone how important it is to live Jessie's motto of 'Never Ever Give Up' or 'NEGU' for short," explained Erik Rees. "Past celebrations like this have included Heisman trophy winners like Matt Leinart, Olympic Gold Medalists like Lenny Krayzelburg, and many others. This is always a fun night that benefits thousands of courageous kids and families."
Jessie Rees Foundation http://jessie.org
Founded in 2011 by Jessie Rees and her family during her fight with inoperable brain cancer, the Foundation helps kids Never Ever Give Up in their quest for healing from cancer. Distributing Jessie's JoyJars © through 262 children's hospitals, every Ronald McDonald House in the US, and in 13 countries, the Foundation has provided over 80,000 JoyJars to kids and families through the support of major corporate partners UPS, Anthem BlueCross of California, Life Technologies, and others.
The Foundation has provided 100% of the JoyJars at no cost to the hospital or recipients and is completely funded through private donations.