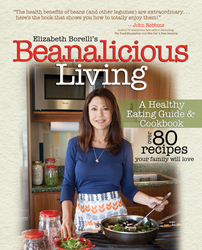 "Beanalicious Living" empowers you to make realistic choices, and pokes holes in the myths that eating whole food is too expensive or too time consuming - or anything short of delicious." --Sarah Wood, Editor and Publisher, Edible Monterey Bay
Santa Cruz, CA (PRWEB) March 18, 2014
Independent literary review guide Rebecca's Reads, today announced author Elizabeth Borelli's new book "Beanalicious Living" as General Non-Fiction Book of the Year 2013. Borelli is a leading food writer, consultant and speaker who received her certification in Plant Based Nutrition Fundamentals from Cornell University. Her book "Beanalicious Living" is a practical, info-packed guide filled with cooking strategies, tips, and easy, budget-friendly, recipes for making the whole foods cooking trend accessible to everyone.
Nine out of ten Americans consider themselves in good health, however US citizens by far outweigh those of all other industrialized countries, and our national healthcare costs rank highest in the world. "Beanalicious Living" offers a practical look at various factors responsible for this situation, then lays out a workable plan for making healthy home cooking enjoyable even for non-foodies. Borelli, a lifelong home chef, focuses on creating familiar and appealing flavor and texture combinations designed to truly satisfy without the unhealthy additives packaged foods contain.
Whether you want to lose weight, stabilize your energy or improve your health, eliminating pre-packaged foods from your diet is the best place to start. And one major factor in transforming your diet is doing more cooking at home. This book not only dispels common myths around organic and whole foods eating, but also includes simple meal planning strategies and over 80 plant-based healthy, money saving, fast and easy recipes.
"Most people think that eating healthy whole foods is more expensive, and more time consuming to prepare, than eating packaged foods. They also think that those healthier meals are going to taste like cardboard. But none of that is true!" explains Elizabeth Borelli. "I'm a busy mom with a family of four, and handle the meal planning, shopping, and cooking for my husband and two kids. So I can say first hand that bringing healthier foods, such as bean and plant-based recipes into our home as a protein source, has not only made our family healthier, it has actually saved us money".
It is based on this philosophy Borelli wrote her book. When discussing it, she's quick to make it clear that she's not advocating to drastically change ones normal food lifestyle. Rather, she is a firm believer in "easing in" to it by replacing packaged foods with healthier, whole food, alternatives. Learning how to read nutrition labels, identify which food additives lead to addiction and weight gain, and how to replace them without compromise is key.
However her book is also ideal for people who already adhere to a healthy eating lifestyle but are seeking new recipes to add variety to their meal plans. Plus, individuals and families who are focused on weight loss, and reducing health risks such as diabetes and heart disease, are embracing Borelli's book.
About Elizabeth Borelli
Elizabeth Borelli is a certified plant based nutrition expert,food writer, mother-of-two, blogger, yogi,
plant-strong eating advocate, and enthusiastic home chef. She enjoys connecting with her local community and online tribe, and sharing her passion for simple, delicious meal preparation using healthy whole foods at workshops and speaking events. Find free recipes, time-saving strategies and easy cooking tips online at http://www.elizabethborelli.com.
For media interviews, speaking inquiries, or book information, please contact Elizabeth Borelli directly at: 831-247-4290, or Elizabeth(at)elizabethborelli(dot)com.