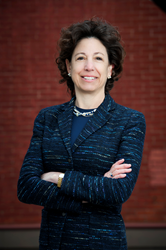 Janet's multi-faceted background and ability to lead strategically and collaboratively represent the right mix of skills to carry Mitchell into the future.
New London, CT (PRWEB) March 17, 2014
The Board of Trustees of Mitchell College is delighted to announce that Janet L. Steinmayer has been named as the College's seventh President, effective July 1, 2014.
After an extensive national search, Ms. Steinmayer has been selected to succeed the College's current President, Mary Ellen Jukoski, following her retirement after a 19-year tenure.
Dr. Elizabeth Ivey, Chair of the Board of Trustees, stated, "We are so fortunate to have someone with Janet's unique background in higher education and business to build on Mitchell's recognized leadership in providing academic, personal and career success to students with diverse talents and learning styles. Her multi-faceted background and ability to lead strategically and collaboratively represent the right mix of skills to carry Mitchell into the future."
Ms. Steinmayer received a Bachelor of Arts degree in English and History magna cum laude from Bryn Mawr College and a doctor of jurisprudence degree from the University of Chicago. She has extensive experience in higher education, serving on the Executive Committee of Bryn Mawr's Board of Trustees, on the Executive Committee of Lesley University, and on the Board of Visitors of the John F. Welch School of Business, Sacred Heart University. She is also the Chairman of the Board of Eagle Hill Southport, an independent school in Connecticut serving children with learning differences.
Ms. Steinmayer's professional career spans many of the areas of study in Mitchell's 13 baccalaureate and three associate degree programs and mirrors the College's focus on experiential learning through service work and internships. Her more than 30-year career includes work as a lawyer, including serving in private practice and as the General Counsel of Trans World Airlines, as Chief Executive Officer of Centerplate, Inc., a large public hospitality company serving major league sports teams and convention centers, and as Chief Executive Officer of Appleseed, LLC, a firm which advises entrepreneurs on how to grow their businesses.
Ms. Steinmayer has also been very active on a range of professional Boards and her work on the Board of The Business Council of Fairfield County has focused specifically on linking businesses with colleges and universities to create opportunities for internships and cross-functional partnerships. A long-time resident of Connecticut, Ms. Steinmayer has deep ties throughout the state, in education, government, business and local communities.
"Mitchell has so many core strengths — an early and deep commitment to supportive, individualized learning, a new framework of ability-based education, the innovative pre-college Thames Academy, a unique waterfront setting, and a very strong community of faculty, staff and Trustees who care deeply about making a difference in students' lives," said Ms. Steinmayer. "I am honored to join and be part of Mitchell's talented and dedicated family and am confident that we will continue to build Mitchell as a leading force in ensuring that students, no matter what their learning style, will achieve academic and lifelong success."
Mitchell College, which celebrates its 75th anniversary this year, has grown significantly under the leadership of its current President, Mary Ellen Jukoski. Under her guidance, the College transformed from a two-year school to a well-respected college offering 26 baccalaureate majors. Jukoski was also instrumental in the launch of Thames Academy and the development of an innovative partnership with the New London STEM Magnet High School, the naming of the Bentsen Learning Center and construction of the Duques Center, and spearheading a move to NCAA Division III athletics.
Dr. Ivey noted, "We look forward to celebrating Mary Ellen's many accomplishments this Spring and to welcoming Janet to our community in July. Mary Ellen has been a passionate, committed leader who has ably navigated Mitchell through both positive growth and development and challenging economic times. We are grateful for her guidance and wish her the very best as she embarks on a new life chapter."
As she reflects upon the passing of the torch, Dr. Jukoski noted, "In Janet Steinmayer, the College has selected a leader with a perfect blend of bold vision and an abiding regard for our mission, history and distinctive character. I am proud to entrust the Mitchell community to her care."
About Mitchell College
Mitchell College celebrates its 75-year history as an invaluable resource for southeastern Connecticut. Today Mitchell College is a private, coeducational, independent college offering 26 baccalaureate majors, three associate degrees, and the Thames Academy post-graduate program. The College is celebrating its diamond jubilee anniversary and continues to be recognized as a national leader in learning engagement within a student-centered community that maximizes each student's ability to succeed. Located on a 68-acre waterfront campus, Mitchell College's over 860 students come from more than twenty states and three foreign countries.