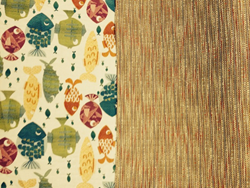 (PRWEB) March 24, 2014
Norman S. Bernie Co., serving the San Francisco Bay Area with the finest decorative fabric inventory in Northern California since 1957, constantly strives to offer the most beautiful and varied stock of upholstery fabrics, drapery fabrics, and indoor/outdoor fabrics, and at discounted prices. To this end, Norman Bernie Co. regularly receives the latest in contemporary decorative fabrics, for residential as well as commercial end uses.
Announcing some of the recent arrivals beautifying Norman S. Bernie Co.'s exquisite inventory: textured microfibers from Diversitex: "Dalton: Ruby" and "Dalton: Marble"; lush "Ikat" chenilles from Richloom: "Rosalie: Spa" and "Rosalie: Cinnamon"; a striking "Cherry Hinton Mill" jacquard pillow pattern from Golding called "Villandry: Linen"; two multi-purpose patterns from Waverly: "Dapper: Elephant" and "Tabby: Twilight"; and two heavy woven textures from David Rothschild: "Wildwood: Ash" and "Resource: Bark", to name just a few of the decorative fabrics arriving as this announcement goes to press.
There is no better time than now to head to the one-stop decorative fabric shop, Norman S. Bernie Company, and to take advantage both of the eye-popping assortment of upholstery fabrics and drapery fabrics in stock and available for special order, at discounted prices, and the most courteous and expert sales staff, ready to guide newcomers as well as the most experienced decorative fabric shoppers.