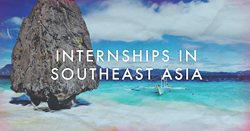 "SK Pacific has formed strategic partnerships with world-class organizations like Ernst & Young, Baker & McKenzie, DDB Worldwide, the Philippine Red Cross to offer professional training."
(PRWEB) March 18, 2014
In today's global economy, recent graduates face one of the toughest job markets on record. Youth unemployment remains stubbornly high at 13% globally. For recent graduates, it has become more important than ever to differentiate themselves from their peers. One of the best ways to gain an important advantage in today's job market is to obtain professional experience abroad and to develop an international mindset.
The SK Pacific internship program was launched in 2013 to give undergraduates and young professionals the international experience they need to better compete in today's economy. The company has quickly become one of the top internship providers in South East Asia. SK Pacific has formed strategic partnerships with world-class organizations like Ernst & Young, Baker & McKenzie, DDB Worldwide, and the Red Cross to offer internships and professional training to qualified individuals.
"Today's job seekers increasingly rely on global internships as a means of enhancing their resume to stand out in a highly competitive job market" says Robert Sobrepena Jr., the Managing Director at SK Pacific. "Our program provides individuals from all over the world the opportunity to gain valuable professional experience in one of the fastest developing international markets to improve their future employment prospects, while also exploring a new cultures and countries."
The SK Pacific program offers an unique combination of work, travel, and pleasure. Program participants are able to build invaluable professional experience while enjoying the best that South East Asia has to offer. SK Pacific provides luxury housing, transportation services, and networking opportunities. Interns are housed together in a luxury hotel in their city center, making it easy to build business connections and friendships. SK Pacific is also partnered with numerous leisure resorts in the region and offers participants special travel packages that they can take advantage of on long weekends. There are also weekly professional and cultural activities with local business leaders that participants are encouraged to attend.
SK Pacific is currently accepting applications for their summer session focusing on Metro Manilla in the Philippines. Interested students can submit their applications through the SK Pacific website. There is no fee to apply and accepted applicants receive a free placement package detailing the opportunities that they qualify for. SK Pacific is rapidly expanding their internship network in Hong Kong, Singapore, Seoul, and Australia. The program is committed to providing talented students the experience they need to thrive in today's global economy.