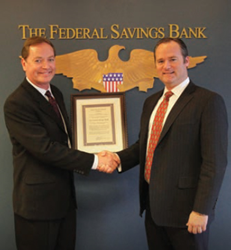 The Federal Savings Bank predicts that mortgage rates will climb to about 5 percent over the next year as the Federal Reserve continues to reduce its stimulus spending.
Chicago, IL (PRWEB) March 14, 2014
The last economic downturn had a profound impact on the housing market and home prices. The Federal Savings Bank reminds readers that when the housing market bottomed out, home prices were well below normal values, allowing many buyers, especially investors, to find a great deal with a low rate mortgage. As the economy improved over the years homeowners have begun to see their equity rise once more, many prospective home buyers are now wondering what value purchasing a home versus renting?
Trulia recently conducted a survey and posted the results on February 26, of 100 metropolitan housing markets across the country, measuring the cost of renting versus buying. In every market, Trulia found that owning a home is cheaper than renting. The overwhelming majority of markets had higher rent prices compared to monthly homeownership costs.
One reason it is less expensive and more cost effective to own a home in the current housing market is low mortgage rates. While rates have risen from their historic lows roughly one year ago, the average mortgage rate is still relatively low and affordable for the majority of homebuyers. The Federal Savings bank found this assertion very interesting as some of its prospective mortgage applicants are worried that mortgage rates are currently high. However, the lenders loans officers are always encouraging prospective home buyers to get approved for a low rate mortgage now as rates may still trend much higher!
Survey highlights
The difference between renting and owning a home varied across metro markets, though the report concluded it is 38 percent cheaper to own than rent nationally. In some markets, the difference was significantly higher. For example, in Detroit, where foreclosures and abandoned homes were frequently the focus of media attention during the recession, it is 66 percent cheaper to own a home than to rent one. In other metropolitan areas, the difference was much lower. However, the advantage of owning in Honolulu, for instance, was just 5 percent compared to renting.
The mortgage difference
The housing market has seen a great revival in the last year or two, mostly due to rising home prices and increased equity for homeowners. In addition to those gains, foreclosures are down and many lending standards have been tightened to ensure that borrowers are able to afford their home loans. Despite higher home prices, buying has remained more affordable partially as a result of low mortgage rates.
Trulia also dug into when the gap between renting and buying would likely close. While mortgage rates are currently hovering under 4.5 percent, Trulia found it will be cheaper to buy a house and get a home loan until rates exceed 10 percent! Mortgage rates have not reached that high since late 1980's.
In some cities, such as San Francisco and Seattle, rent prices have risen sharply in the last year, while mortgage rates have climbed at a much slower, affordable pace. This difference has decreased affordability for rental markets, while homeownership has remained a good option.
Some markets are likely to even out between buying and renting if mortgage rates reach between 5 and 6 percent. The Federal Savings Bank predicts that mortgage rates will climb to about 5 percent over the next year as the Federal Reserve continues to reduce its stimulus spending. This leads the lender to encourage prospective homebuyers to find a low cost mortgage and purchase a home now while they still have the financial advantage.
Contact the Federal Savings Bank, a veteran owned bank, to explore affordable housing options.