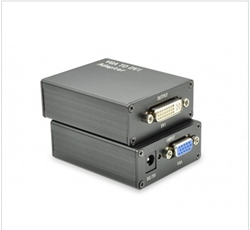 (PRWEB) March 15, 2014
Hiconn Electronics is a famous company offering various kinds of adapters. Recently, the reliable company has announced its new range of VGA to DVI Adapters. This morning, the development manager for the company has stated that all its products are now provided at greatly discounted prices, up to 32% off.
"We are happy about our new VGA to DVI Adapters. All clients that place an order at our website before April 1 can get a low rate. It is worthy to mention that our new selection comes in various patterns. As far as I am concerned, they are among the best devices in the market. Customers will be very satisfied with our top quality items," he says.
The detailed information about the company's VGA to DVI Adapters is as follows:
--Aluminum shell for stronger protection
--Compliant with DVI 1.0 specifications
--Support the resolution up to 1080p@60hz
--Support Hot Plug
--Coming with certified 5V 1A power supply
--Converting an analog video output signal from a computer for use with an HDTV
--Connect a laptop computer to a boardroom projector or display, for on-screen presentations
What's more, plenty of worldwide distributors like the products from Hiconn Electronics. Not only does the company have some of the best devices in the global market, it also has a group of top experts. Its rich experience and vast knowledge enable it to offer what consumers actually need.
About Hiconn Electronics
Hiconn Electronics (Shenzhen Hiconn Electronics Co. Ltd.) is devoted to designing and manufacturing a wide range of connection cables and customized cable assemblies, offering many HDMI cables, VGA cables, SATA cables, USB cables, 1394 cables, DVI cables, SCSI (Small Computer System Interface) and more. For more information, please visit http://www.hiconn.net/.
Contact Person: James Yin (Sales Director)
Company Name: Shenzhen Hiconn Electronics Co., Ltd.
Address: Shenghua Building., Xixiang Road., Baoan District, Shenzhen, Guangdong Province, China
Zip Code: 518102
Tel: +86-755-8109 8345
Fax:+86-755-2779 3497