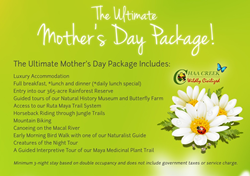 "Bookings from now until March 31 2014 will attract a 15% discount off the entire package, which is the ultimate way to say 'thank you' to mothers while enjoying an affordable luxury family vacation."
San Ignacio, Belize (PRWEB) March 17, 2014
Belize's The Lodge at Chaa Creek has seen a dramatic rise in the giving of all-inclusive Mother Day gift packages over the years, and manager Bryony Fleming Bradley said Chaa Creek just added one more reason for the trend to continue this year – a 15 per cent discount off the entire Mother's Day Month Belize vacation packages.
"Bookings from now until March 31 2014 will attract a 15% discount off the entire package, which is the ultimate way to say 'thank you' to mothers while enjoying an affordable luxury family vacation," she said.
Ms Fleming Bradley said the all-inclusive package includes luxury accommodation, a full daily menu, entry into Chaa Creek's 365 acre private nature reserve with horse back and mountain bike riding, guided nature tours, canoeing, and a range of activities.
"But at the end of the day it's really all about what mum wants. Sometimes the pool beckons, or lounging around in a hammock with a good book surrounded by our tropical gardens seems like a perfect way to send the day," Ms Fleming Bradley said.
"It's been our experience that families and couples are finding it more important than ever to spend quality time together. Whether that fact has to do with the increased tempo of life or just a greater importance on reconnecting and spending time with those you love, we're noticing a real desire to connect by sharing adventures and experiences.
"And I believe, with work and other pressures increasing, this is trend that will continue to grow. And now with 15 per cent off accommodation, meals, transfers, tours and everything, it really does become and affordable way to do something very special for that special person."
Ms Fleming Bradley, said that Chaa Creek has been concentrating on offering affordable all-inclusive Belize vacation packages that allow families to turn life experiences into holiday events.
"It really started with Christmas and other holidays, when we realised that we could make it more affordable, and much more fun, by taking over the hosting of these events. Feedback from guests said that after buying everything, getting the clan together, organising presents, events and what not, it was actually less costly, and certainly more time efficient and fun, to take advantage of our all-inclusive Belize family vacations," she explained.
"Actually, for the price of a nice piece of jewellery, mothers and their families can have the experience of a lifetime, and that really is something that lasts forever," she added.
The Lodge at Chaa Creek sits within a secure 365 acre private nature reserve with miles of trails, and well established infrastructure for horseback and mountain bike riding, nature walks, canoeing, Maya archaeology exploration and other activities, thus earning Chaa Creek the title of Belize's "Destination within a Destination".
"I'd like to say that we invented that title, but it just seemed to grow," she said.
Ms Fleming Bradley said that, as Belize's first eco resort, opening on the same month Belize achieved independence, Chaa Creek has been able to develop a network of friends and colleagues across Belize and nearby countries, giving the resort an ability to offer all-inclusive Belize vacation packages with like minded "sister resorts."
As a pioneer in sustainable tourism and responsible travel, Chaa Creek was Belize's first Green Globe certified eco resort and has since gone on to collect an impressive array of awards from a variety of global organisations. The Lodge has since developed a network of associated eco resorts with similar sustainable ethos, giving Belize an enviable reputation as a nation with an environmentally and socially aware ecotourism industry.
Ms Fleming Bradley said that given the amount of activities on offer, and to allow guests to take full advantage of the 15% discount, this year Chaa Cheek has decided to extend the Mother's Day package to cover the entire month of May.
"We're now calling it Mother's Month. And really working with our guest to make sure that mothers have exactly the holiday they're looking for and, let's face it, deserve," she said.
Ms Fleming Bradley from the moment mother awake surrounded by tropical rainforest flowers until they retire to the gentle sounds of jungle nightlife, they will be pampered as never before.
"Our award winning Chef Mario Alejandro Mendez said he is pulling out all stops to achieve epicurean excellence. After all, he learned his craft in his own mother and grandmother's Queck'chi Maya kitchen before moving on to an impressive international reputation, so there's a maternal connection there as well," she said.
Ms Fleming Bradley said although Mother's Day is not celebrated until May 11 ,this year, she is encouraging guests and their families to book early.
"Mother's Day is still some three months away, but people, especially our repeat customers are already booking, so it's not too soon to start thinking about it. After all, your mother had nine months to think about you," Ms Fleming Bradley said, "and it would be terrible to miss out on such a richly rewarding experience by not getting in early."
"Also, because of the personalised nature of how we deal with our guests, it's never too early to start talking about what you want, and how to make this the best mother's day ever," she said.
In the US and Canada Mother's day is the second Sunday of each May, falling on May 11 in 2014. Other nations celebrate on different dates, but Ms Fleming Bradley said everyone can rest assured at all of May 2014 will be dedicated to mothers at Chaa Creek.
"But expect a particular amazing day on May 11th, she said. "I plan on my own mother being impressed," she added.
ENDS