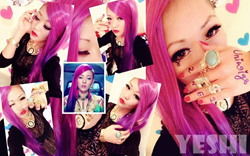 Buy some colorful hair extensions for spring!
Chino Hills, CA (PRWEB) March 15, 2014
As spring comes, Uniwigs, the leading online wigs provider launched some beautiful clip in hair extensions for people who want their hair longer and thicker.
Some feedbacks from customers said they want to buy cheap but high quality human hair clip in hair extensions and ask Uniwigs to offer this kind of products. Yes, Uniwigs only offer high quality but expensive clip in hair extensions before. But this time, in order to meet customers' needs, Uniwigs launched many high quality clip in hair extensions, and they are made with 100% human hair. People can rest assured to buy.
Uniwigs also launched many colorful synthetic hair extensions, because some young girls like to look colorful in spring. Uniwigs launched both human hair and synthetic clip in hair extensions to feedback people this time. Why say so? Because most of the products make little to no profits.
Uniwigs hair extensions come in the largest variety of colors, lengths and textures, giving you nearly infinite combination options Uniwigs maintains the highest level of integrity of the hair they sell by making its products available only to Uniwigs trained and certified stylists.
People on YouTube like Uniwigs hair extensions very much. If you search Uniwigs via YouTube, then you can see many videos and tutorials made by those YouTube fashion gurus. Here is a link about Uniwigs hair extension and was made by a girl from Germany, https://www.youtube.com/watch?v=cbnhvloSZmM. People can watch it and know Uniwigs from this video.
About Uniwigs.com
Has served customers in favor of wigs for many years, Uniwigs now is the biggest wig brand online. With professional hair stylist teams and celebrity hair styles, Uniwigs has become a well- known brand broadly recommended by hundreds of YouTube gurus and customers. Many pictures, videos and reviews are transmitted on Facebook, YouTube, and Instagram of Uniwigs.