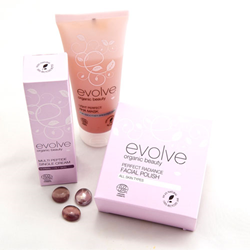 London, UK (PRWEB UK) 18 March 2014
With Mother's Day just around the corner, there is a growing trend to pamper mums by giving them organic gifts on the day. Elegantly Organic, the online organic beauty retailer, has found that a lot of its customers are buying gifts for their mums that are good for the environment and for their health.
Sandra Gibson, founder of Elegantly Organic, has seen a rise in the number of people buying organic products as Mother's Day gifts in the last few weeks. "This is the one day of the year when we should all be pampering our mums and if we can protect the environment while doing it that is even better," she said.
A report published in the USA last year found that the global demand for organic personal care products was over $7.6 billion in 2012 and is expected to reach $13.2 billion by 2018. This huge increase shows that consumers are spending increased amounts of money on organic beauty products and the market will continue to grow in the next few years.
"The sale of organic products has boomed in recent years with increased awareness of the harmful effects of chemicals on the environment and on the skin and this has led to an increase in organic beauty products available in the market today," Sandra continued.
This growth in the market has had a positive impact on the price of organic beauty products. Elegantly Organic has seen a steady downward push on average prices in the market and the impression of organic products being expensive is slowly fading with customers now expecting organic products to cost the same as non-organic products.
"With people still feeling the pinch of stagnating wages and high inflation, it is nice to see that organic beauty products can now be bought at very reasonable prices. As our mums deserve the best, Elegantly Organic has created a special Mother's Day gift for mums that won't break the bank.
The Evolve Complete Facial Care Kit is one of the best organic beauty products to get your mums this year," concluded Sandra.
About Elegantly Organic
Elegantly Organic is a family run business specialising in the retail of natural and organic beauty products across the skincare, body care and hair care ranges.
The company believes that it is important to consider what we put on our body as well as what we put in it. Every product they sell has been sourced to ensure they contain no harmful ingredients, are free from parabens, sulphates, mineral oils and harmful chemicals. They only deal with certified, natural brands, that are cruelty free, many of which are suitable for vegans too. Customers can be assured that all the products sold, they would happily use on ourselves, our family and our friends.
Elegantly Organic aims to be the family website of choice for those wanting to purchase organic, natural beauty products, exceeding customers' expectations with their market leading customer service.
To find out more go to http://www.elegantlyorganic.co.uk or contact Sandra Gibson at sandra(at)elegantlyorganic(dot)co(dot)uk
Information taken from: http://www.cosmeticsandtoiletries.com/formulating/category/natural/Demand-for-Organic-Beauty-to-Grow-to-Over-13-Billion-by-2018-Report-Says-213160491.html