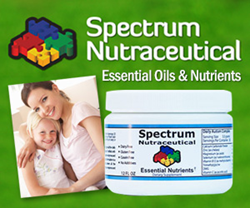 Spectrum Nutraceutical: turns mom's tears into smiles.
San Diego, CA (PRWEB) March 17, 2014
The parents of children with autism are surely going through day by day challenges as far as feeding them right is concerned. The good news is, they may now take advantage of Spectrum Neutraceutical, a dietary supplement that is specifically developed for children with special needs. Spectrum Neutraceutical is composed of 25 essential nutrients that can give parents peace of mind. With it, they can be sure that their kids will get the right level of nutrition, even if they tend not to eat right.
Click here to visit official website of Spectrum Nutraceutical.
Even normal children may take this supplement to assure them of 100% nutrition. For many parents who are feeling a little frustrated when feeding their kids, Spectrum Neutraceutical is the answer.
Spectrum Neutraceutical is composed of nutritional elements offered in powder form. It is a very economical supplement and is easy to use, measure, and mix. It contains no gluten, casein, soy, or artificial coloring. It is also non-allergenic and sugar-free. But best of all, it is free from harmful GMO ingredients.
Included in Spectrum Neutraceutical's ingredient list are special contents such as Methyl-B12, which helps protect the brain cells, nerve endings, and nerve tissues; L-Carnitine, an essential amino acid that builds protein; DMG and TMG, which promote positive behavior; Quercetin, a powerful antioxidant; and Black Currant Oil, an essential fatty acid that boosts the immune system.
Click here to visit official website of Spectrum Nutraceutical.
These five special ingredients are combined with common nutrients such as Vitamin A, C, and B complex. Also included in the list are Calcium Carbonate, Zinc, Magnesium, Selenium, L-Glutathione, Folic Acid, Biotin, Inositol, N-acetyl L-Cystein, Colostrum, and Lactobacillus.
Those are all the nutrients that a child with autism needs in order to live life fully, almost like other kids. The supplement provides them the fighting chance to live normally despite their condition. Spectrum Nutraceutical comes with a 100% satisfaction guarantee. Every order also comes with a bottle of all-natural essential oils that will boost alertness, improve weight management, maintain healthy skin, and increase the child's metabolism.
For more information about the fully loaded Spectrum Nutraceutical dietary supplement and how to avail of it, please visit the product's official website at http://goo.gl/Jwq1BQ.