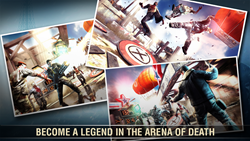 Brno, Czech Republic (PRWEB) March 19, 2014
Madfinger Games, veteran developers who have changed the history of mobile games with titles such as Samurai, Shadowgun, Shadowgun: DeadZone and Dead Trigger, bring about yet another mind blowing tweak in Dead Trigger 2 - killing zombies in the Arena of Death. More than 16M gamers are now invited to prove their killing skills and share their best and bloodiest score with their friends on leaderboard. In the Arena of Death, players start killing the first wave of zombies with the bombastic commentary of the twisted and deranged gameshow presenter, Titan Newton Tourmaline aka T.N.T. Every wave of zombies is more dangerous, so you'll need to change your tactics on a regular basis.
"Except fellings of great fun, we want to support the spirit of competition among our gamers," explains Pavel Čížek, Project Leader of Dead Trigger 2. "There is no better solution for this, than the arena tournament where you can share your score with friend,s" adds Čížek.
During the bloodshed is possible to increase your body count and score by collecting lucky boxes. Gamers can temporarily find four kinds of boxes that allow you for a short amount of time to gain significant increase to damage infliction, immortality, score bonus and increased speed and melee weapon effectiveness. More fun allows you to set three traps in the arena which blast zombie corpses into the air.
There is more new game content as well. The city and dam reservoir are new environments, where zombie killers will rendezvous with those of the infected flesh for some messy fun. Now it is also possible to play at nighttime and enjoy and even more spooky atmosphere.
And there are new faces among our zombie friends. Players can now practice their surgery on nurse, construction-worker and prostitute zombie characters.
When fight for humanity winds down in Europe, don´t expect the end of the world's troubles. The Global Resistance will be called upon once again to fight a new liberation campaign in America.
Madfinger Games are keeping their finger firmly on the trigger to permanently shoot out new game content, so that the gamer community can rest assured that every monthly update will bring about new features, especially with the arrival of the Arena of Death in the near future.
Madfinger Games brings together a team of heavily experienced console game developers with a shared goal of creating console-quality games for iOS and Android mobile devices as well as Facebook platform. This includes a key emphasis on next-gen graphics and offering mobile gamers a visually stunning gaming experience. Their third person shooter, Shadowgun received outstanding reviews and high ratings, reaching the position of Number One Game in 25 countries and has been included in "App Store Rewind 2011" and the Apple "Hall of Fame". Last year's hit, the first-person shooter, Dead Trigger 2, has recently reached 16M downloads.
Check out the Dead Trigger 2 video of Arena of Death: http://goo.gl/x5EfsY
Dead Trigger 2 soundtrack: http://goo.gl/sBg3Iv
The Facebook App is available here: https://apps.facebook.com/deadtrigger_ii